1931
In a letter to the Indochina Communist Party's Executive Committee, Nguyen Ai Quoc (Nguyen the Patriot, an alias of Ho Chi Minh) was critical of the Party Committees of Central and Northern Vietnam for the shortcomings in "the way the conference started," "the discussion", "the Party's name issue," and "the definition of the Party's forces."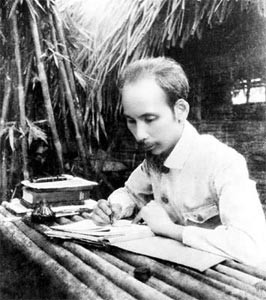 President Ho Chi Minh told personnel at a clinic in Ha Dong Province: "You should have a good attitude towards patients, regarding them as your flesh and blood."
He demanded that those shortcomings be rectified and asked each Party member, district, and province to launch action plans in the spirit of "every Party member and local Party cells must discuss the instruction of the Communist International and the Party's central committee's resolution ".
1939
Nguyen Ai Quoc, then in Guangxi Province, China, wrote a letter under the pseudonym Lin to the Oriental Committee of Communist International in Moscow about the social situation in Vietnam.
"Suppression occurs everywhere, especially in central Vietnam, to hamper left-wing elements, workers and farmers… I have a feeling the united front's movement in this area is not very strong. On the contrary, left elements' activities are quite vigorous…"
1948
In a letter to the General Committee of the Viet Minh (League for the Independence of Vietnam), President Ho Chi Minh, its founder, analyzed the reasons for the success of the August Revolution in 1945.
He wrote: "When the August Revolution succeeded, the Viet Minh, seizing power, intended to set up a broad government comprised of talented people to shoulder the responsibility of the nation's affairs. At that time, some thought that patriotic personalities of high reputation and fame are not likely to cooperate with the Viet Minh. However, as the Viet Minh put the interest of the nation and people above all, many of them cooperated with the Government."
The letter also admitted that the rapid development of the Party without adequate training for its members had seen some cadres committing wrongdoing.
1949
To the question "What is patriotic emulation?" raised by French newspaper "La Tribune," President Ho Chi Minh replied in an interview published on Cuu Quoc (National Salvation) magazine that "Patriotic emulation is characterized by the act of mobilizing the minds and bodies of all Vietnamese soldiers and people to serve three targets: eliminating starvation, annihilating illiteracy, and fighting foreign invaders."
He also wrote: "We welcome foreign media representatives who are unbiased to areas under our control in Vietnam."
Asked about Vietnam's attitude towards France once it attains full independence, he said: "Vietnam is willing to cooperate with the French people. All French, no matter whether they are capitalists, workers, businesspeople, or intellectuals, will be treated by Vietnamese people as friends as long as they want to honestly cooperate with Vietnam."
1963
During a visit to Van Dinh clinic in Ung Hoa District, Ha Dong Province, the President said, "You should attach much importance to both material and spiritual services. Besides providing them good medicine and delicious food, you should also have a good attitude towards patients, regarding them as your flesh and blood. Special attention should also be paid to prevention of diseases."


By Duong Trung Quoc* and co-writers
*The author is a historian and member of the National Assembly