1946
 
President Ho Chi Minh attended a Government Council meeting to discuss urgent issues related to security and diplomacy, including the Vietnam - France Conference in Da Lat and the promulgation of a decree for setting up an agency in charge of military affairs together with the Ministry of Defense.
On the same day he signed a decree on the right to set up associations which allowed every citizen to establish an association if it is not for profit and does not corrupt the country's traditions or harm social order or national security.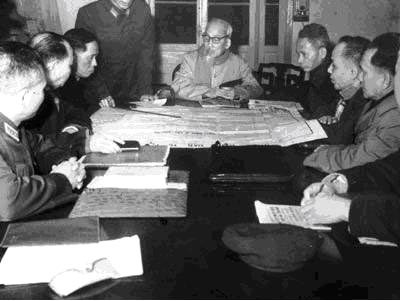 Uncle Ho and other Politburo members discuss the 1968 Tet Offensive just before the beginning of the campaign
1951

Nhan Dan (People) published an article titled "Ngan Son women's resistance rice jar" he wrote under the pseudonym C.B. 
He praised the initiative of Ngan Son women in Bac Kan and said encouragingly: "The resistance rice jar is a way to practice thrift. Making resistance rice jars is very simple but its benefits are great."  
1952
He attended the third Conference of the second Party Central Committee.
Concluding a report on "Situation and duties," he said: "We have whatever is needed to win and it means we have implemented the long-term resistance policies properly, stood on our own feet, and made practical preparations for a general counter-offensive to achieve final victory."
 
1960
 
On the occasion of Lenin's 90th birth anniversary, Nhan Dan published Ho Chi Minh's article titled "The way leading me to Leninism."
 
Based on the experiences in his patriotic and revolutionary life, he said: "For us, Vietnamese revolutionaries and people, Leninism is not only a miraculous 'manual' and a compass but also enlightens our way to the final victory, socialism, and communism."
1962
 
Nhan Dan published two other articles on Lenin.
In the article "Lenin, a great teacher of Vietnamese revolution," Uncle Ho wrote for Soviet Union newspaper Pravda (The Truth): "Studying Lenin's books on nationhood, colonies, and peasants' issues, Vietnamese revolutionaries have realized clearly that it is the only way to liberate the nation from slavery. We have tried to do properly what Lenin taught."
 
In an article titled "Long live great Leninism!" written under the pseudonym T.L., he concluded that "Leninism has brought humanity to a new stage – the stage of socialism and communism."
 
1966
 
Speaking at the concluding ceremony of the third National Assembly's third meeting, President Ho Chi Minh said: "Our people love peace, but there must be independence and liberation to have true peace. The Vietnamese nation is heroic. We are determined to fight to win completely to gain real peace, independence, and liberation."
 
1968
 
Attending a Politburo meeting to review the Mau Than Offensive, he said: "To prepare tasks for peacetime, the history of the fight against France has to be written and that of the fight against the US is also needed to be written from now."

By Duong Trung Quoc* and co-writers
*The author is a historian and member of the National Assembly