1946
 
President Ho Chi Minh attended a Government Council meeting to discuss the French colonialists' arrest of Doctor Pham Ngoc Thach, a Vietnamese participant at the Vietnam-France Preparatory Conference in Da Lat, France's intention to occupy Dien Bien Phu, and the negotiation by the Chinese National Party military on the exchange rate between the devalued Franc and the Indochina currency to sabotage Vietnam's finances.
 
On the same day he signed a decree to release a postage stamp of Emperor Bao Dai and Empress Nam Phuong with the words "Democratic Republic of Vietnam – Welfare of the People" to raise funds for the "National Assistance Fund."
 
1950
 
He visited second-term students at the Nguyen Ai Quoc Party School at the Viet Bac Base. He talked about the systems and purposes of studying theory.
 
"Merely reading many books is not good. It is empty theory. Theory must be combined with reality. Studies have to go together with practical experience. Studying has to be voluntary. You have to be diligent, thrifty, and honest to deserve to be a Party member and revolutionary."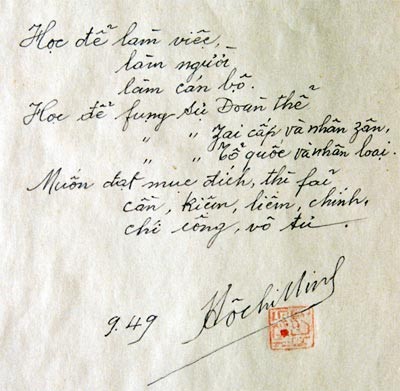 President Ho Chi Minh visited the Nguyen Ai Quoc Party School at the Viet Bac Base in September 1949 and wrote the above in the school visitors' book
1952
On an unspecified day in April, he wrote to professors and students at a preparatory University in Thanh Hoa Province to thank them for greeting him.  
He reminded them that "Teachers have a major and glorious duty to train officials for the nation. Education must aim at being honest to serve people." 
1960
At the Hanoi Opera House, as a candidate of the second National Assembly, he told voters: "The first NA was a fighting NA. The second has to be an NA for establishing socialism in the North, and a firm foundation for the fight to reunify the country." 
"Elected members will always try to be loyal servants of the people and diligent, thrifty, honest, public-spirited, and selfless delegates who will serve the Fatherland, people, and socialism with all their hearts." 
1961
President Ho Chi Minh signed a decree to promote Colonels Pham Kiet, Pham Ngoc Mau, Le Trong Tan, and Ta Xuan Thu as major generals, and these officers later become talented generals of the Vietnamese People's Army in the war against the US. 
1965
As a revolutionary journalist, he sent a greeting to the Asian-African Journalists' Association on Asian-African Journalists' Day. 
He said: "For us journalists, the pen is a sharp weapon, the article is a revolutionary proclamation to encourage people to show solidarity to fight old and new [forms of] colonialism and imperialism, especially the US, for the nation's independence, social progress, and world peace."

By Duong Trung Quoc* and co-writers
*The author is a historian and member of the National Assembly