1928
 
The Communist International's Executive Committee decided to let Nguyen Ai Quoc (Nguyen the Patriot) return home to conduct revolutionary activities.
 
The minutes of the Communist International's Secretariat said that "According to your aspiration, you can go back to Indochina. The trip's costs and other expenses arising during those three months of your visit, the French Communist Party will bear."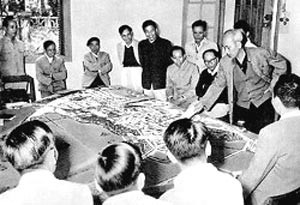 President Ho Chi Minh viewing a model of Hanoi
1959

He attended a session of the 16th Conference of the 2nd Party Central Committee to discuss collectivization in the mountainous region, and then he attended a conference of the Hanoi's Party Committee. 
At the conference, he said, "In the name of a party member in Hanoi, I'd like to express my opinions. Hanoi has to become a socialist capital. Hanoi's Party Committee has to be an example for other party committees." 
On an unspecified day in April, he attended a military logistics exhibition and wrote in the visitors' book that "It is the first advance on the thousands-of-miles road of a technical revolution, and kind of a flower giving the signal of spring. It proves that the people's intelligence and initiatives are limitless. Leaders have to be astute to encourage, help, guide and cultivate so that those intelligences and initiatives can blossom and bear fruit." 
1961
Speaking at the 2nd Fatherland Front Congress, he said, "[If] our people show solidarity and are unanimous, everyone is aware of being the country's master and is determined to fulfill duties of a master, we can overcome all difficulties and will surely gain further and greater victories." 
In conclusion, he reminded them of a slogan, which he had originally said at the Viet Minh Front-Vietnamese Alliance Unification Congress in 1951, "Solidarity, solidarity, great solidarity; success, success, great success." 
1963
At a Politburo meeting to discuss food and measures to overcome famine, he said, "There must be temporary, short- and long-term plans. All years see difficulties and uncertain supplies of food. We have to find solutions. Socialism can't be like this, it can't encourage people. Therefore, long term, there are only two measures: increasing production and practicing thrift. 
At the meeting, he appointed General Nguyen Chi Thanh Commander-in-chief to lead the famine relief. 
1964
Nhan Dan (People) published his interview with Australian journalist W. Burchett. 
He said, "If the US government respected its commitments not to use force or threaten by force, there would not be war in Vietnam. However, we differentiate between US people and US imperialists.  
"We want to have fraternal relations with the US people whom we respect because US people are talented, have made many contributions to science and, especially, have recently raised their voices against the aggressive war in South Vietnam."

By Duong Trung Quoc* and co-writers
*The author is a historian and member of the National Assembly