1945
At a tea-shop in a village in Jing Xi District, Guangxi Province, China, President Ho Chi Minh met Major Archimed Patty, head of the US' OSS unit positioned in Kunming City, China. The President informed him about the famine in North Vietnam, France's and China's plans for Indochina, the Viet Minh*'s willingness to cooperate with the US when appropriate, and the preparations under way for forming a democratic independent government in Vietnam.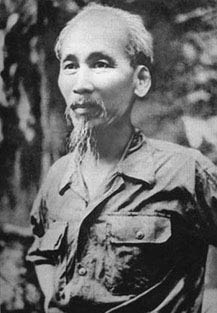 President Ho Chi Minh wrote: "The virtues of a revolutionary soldier are intelligence, humanity, prestige, bravery, and integrity."
About his first impression of Ho Chi Minh, Patty wrote in his memoirs: "That uncanny, slender, and small man met me with a cordial smile. He required nothing, just telling me about the potential values of his military and political organizations."
1946
The President received an envoy from the Paris Radio Station who came to get permission to record the songs "Tien Quan Ca" (Army March), "Diet Phat Xit" (Kill the Fascists) and "Ho Chi Minh Muon Nam" (Long Live Ho Chi Minh). The envoy also asked for the president's comments on these songs.
When seeing off his guest, the President said, "Please send my affectionate regards to the French people. Despite the current impediments, I believe that the cooperation between the Vietnamese and French peoples would be fruitful, as both the people share the same ideology of Liberty, Equality and Humanity."
1949
In a letter to a graduation ceremony held at Tran Quoc Tuan Infantry School, he wrote: "You have learned already. Now you must practice. During your practice, you should continue learning. Your duties are to help continue the resistance against the enemy while preparing for a general counter-offensive. I hope you all do your task diligently. To fulfill the task, besides military skills, you must keep in mind the virtues of a revolutionary soldier: Intelligence, Humanity, Prestige, Bravery, and Integrity."
1962
During a visit to Sao Sang Nursery School in Hanoi, he said to teachers: "Working in a nursery remains a new and difficult job. What these kids' future would be like when they grow up depends a lot on your work today."
1964
In a congratulatory letter to the teachers and students of Duc Tho High School in Ha Tinh Province when the school was renamed Tran Phu, he wrote: "This is a great honor to the school. Tran Phu was an eminent member of our Party who sacrificed his life for our revolutionary cause."
In a book titled "Telling stories while traveling," the president wrote: "One of the first young men sent to Guangzhou for political training, Tran Phu was admitted to the Revolutionary Youth League of Vietnam and then was sent to Moscow for further training. In April 1930 Phu returned to China to meet me to discus some Party issues before being sent home for work.
"In October 1930 Tran Phu was elected the first General Secretary of the Communist Party of Vietnam. Intelligent, dynamic and industrious, comrade Phu did a lot of things for our Party, though his service lasted less than one year."

*Viet Minh: League for the Independence of Vietnam
Duong Trung Quoc* and co-writers
*The author is a historian and member of the National Assembly