1946
President Ho Chi Minh chaired a Government Council meeting to discuss the French-controlled Indochina Bank's act of suspending 500 dong banknotes and issued new 100 dong notes. The Government considered this a move scheme to sabotage the country's financial system.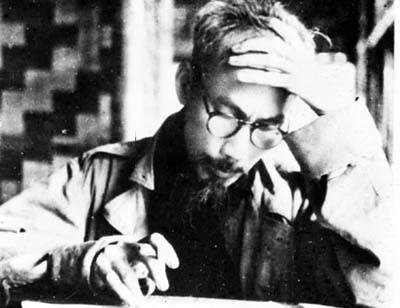 President Ho Chi Minh said "Helping a neighboring country is to help ourselves" when Vietnamese troops went to Laos to fight the French
It also rejected the signing of a preliminary treaty on mail and air transport between Vietnam and China.
Ho Chi Minh signed a decree to add more officials to the Central Committee for the "New Life" Campaign, including Doan Tam Dan, Tran Huy Lieu, Vu Dinh Hoe, Nguyen Tan Gi Trong, Nguyen Huy Tuong, Do Duc Duc, and Pham Bieu Tam.
The campaign initiated by the president aimed to perform urgent tasks set by the Government, one of which was "to re-educate our people to make them more courageous, patriotic, and industrious. They must deserve to be the people of an independent Vietnam."
1953
Before the Northern Laos military campaign kicked off, the President wrote a letter to Brigades 304, 308, 312 and 316 urging them to coordinate with the communist Pathet Lao (Lao Peoples' Army) in the fight against the French colonialists.
In the letter he said: "It is the first time that you take on this honorable and important task of helping our neighboring country. After all, to help a neighboring country is to help ourselves.
"You should promote our international friendly spirit, have respect for Laos' sovereignty and its customs and manners, and have love and respect for its people.
"It is absolutely imperative to remain disciplined and preserve the reputation of the Vietnamese People's Army. All of you must have a strong and enduring determination to gain victory…"
1960
President Ho Chi Minh sent a thank-you letter to Hanoians for their suggestion that he run for the National Assembly from Hanoi.
He said in the letter that he would be a candidate from Ba Dinh District.
He encouraged voters "to actively take part in the elections to make them a great success."
In an article published on Nhan Dan (People), he said the agenda of the third congress of the Communist Party of Vietnam should focus on three issues: improving the revolutionary virtue of Party members; solidarity and consolidation within the party; and fulfilling the tasks set by the Party."
1965
To welcome the 10th anniversary of the Asia-Africa Conference held in Bandung, Indonesia, in 1955, Ho Chi Minh sent a congratulatory message to Indonesian President Sukarno who hosted the celebration of the historical event.
He wrote: "The past ten years have strongly proved the soundness, strength and vitality of the spirit of the Bandung Conference. The Vietnamese people have love for peace and will never yield to any threats from imperialist forces…"
By Duong Trung Quoc* and co-writers
*The author is a historian and member of the National Assembly