1949
President Ho Chi Minh decided to move the President's Office and governmental agencies from Lung Tau hamlet to Khau Lau hamlet in Son Duong District, Tuyen Quang Province. He also decided to locate Party agencies and other important organizations in Dinh Hoa District in Thai Nguyen Province, which has since been known as the capital of the resistance war against the French.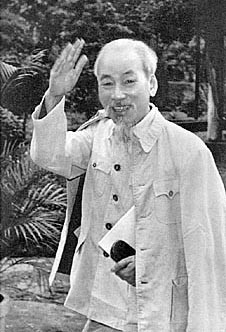 President Ho Chi Minh wrote: "Every Party member must become an example in doing everything, show solidarity with people not in the Party and help them."
1950
Addressing a Party Central Standing Committee meeting held after his visit to China and Soviet Union, President Ho Chi Minh hailed the convening of the 3rd National Party Congress. He also said, "We have been successful in the 'general counteroffensive in terms of politics', which is reflected in the unity of the entire people and in the world's recognition that our resistance against the French colonialists is a just war.
"The victory in the general counteroffensive 'in terms of politics' would greatly help the military one."
The President decided to choose May 19 as the day of the patriotic movement, but said that acts in the name of the movement that result in a waste of people's time or money were banned.
1953
In an article published on Nhan Dan (People) about "the International Conference on Protection of Youth's Rights" held in Vienna, Austria, he wrote: "Vietnamese youths who want to protect their rights and interests must actively take part in the resistance war; try to improve their political acumen; not be fearful of hardship and sacrifice; love working; protect public assets; fight bureaucracy, corruption, and extravagance; and love the fatherland and be ready to sacrifice themselves for it."
"They should combine their love for the fatherland with the spirit of Communist International, and must be loyal to the people, Party, and Government."
1954
In "Duties of Party cells in agencies" published on Nhan Dan to promote the role of Party members in the resistance war and land reform, he wrote: "Every Party member must become an example in doing everything, show solidarity with people not in the Party and help them."
"They have to expand democracy in their office and apply criticism and self-criticism. They must resolutely fight efforts to restrain the people from voicing their criticism. The higher they rise in our Party, the more scrupulously they should comply with the Party discipline… They should keep in mind that a Party cell is an organization with a political leadership role, not merely an administrative organization."
1961
He spoke to more than 30,000 people during his visit to Bac Giang Province, encouraging them to do their best and to promote their glorious tradition to achieve victory in a fight against another enemy: poverty and backwardness.
By Duong Trung Quoc* and co-writers
*The author is a historian and member of the National Assembly