1925

Nguyen Ai Quoc (an early alias of Ho Chi Minh) wrote a letter under the pseudonym L.T to comment on a dissertation titled "Revolution" by H.H., aka Nguyen Thuong Huyen, a son of the patriot Nguyen Thuong Hien who was engaged in political activities in China.

In the letter, he explained what a good writer requires. "Using classic references is fine but abusing them will make readers uncomfortable. Being utopian, the profound and subtle features of classics are also vague, which might make readers misunderstand.

"A work of literature does not necessarily have to be long to be interesting. When a work accurately verbalizes what it wants to say, every reader will understand it.

"It should make readers contemplate it to be considered an interesting work.

"A simple and accurate writing style is better than a wordy and florid one. If your work is meant to be an agitprop, it has to be one that every one can understand. A stylish work that is hard to understand does not help."

Commenting on its revolutionary content, he said: "You did not say: 1. What has to be done before a revolution, 2. What has to be done during a revolution, 3. What has to be done after a revolution.

"You did not talk about the forces the French can use in our country, and our forces.

"I frankly express my opinions on your writing and raised some issues for discussion. I hope I can draw something from it to widen my knowledge. I sincerely and warmly acclaim your enormous talent and great mind.

"However smart a worker is, he still sometimes makes a mistake. Only those who sit idle do not make mistakes. But working and committing mistakes is better than being afraid of making a mistake and so sitting idly."

1939

Notre Voix (Our voice) published an article titled "Letter from China" wrote by Nguyen Ai Quoc under the pseudonym PC.Lin.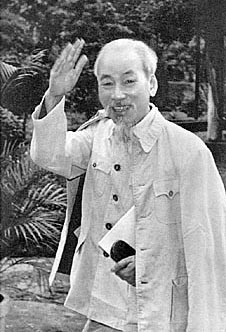 President Ho Chi Minh
At this time, he was working as a telegrapher for the Eighth Route Army unit in Guilin, China, under the alias of Hu Guang.

Through the paper, he contacted a communist group which operated openly since the time of the Front Populaire to prepare to welcome new opportunities for a revolution.

1946

President Ho Chi Minh received delegates from self-defense regions in Hanoi at the North Vietnam Government Office.

He encouraged them and asked them to be calm, adding "If one thing is endured, nine others will become good."

He also defined their impending tasks.

1960

He attended a Politburo meeting to discuss construction of the National Assembly building designed by China.

He said the construction has to be thrifty and done in cooperation between specialists from the two countries.

However, due to many reasons, the construction did not go ahead.

By Duong Trung Quoc* and co-writers
*The author is a historian and member of the National Assembly