1942
 
Viet Nam Doc Lap (Independent Vietnam) published a poem titled "Presenting Governor-general Decoux" by Nguyen Ai Quoc.
The poem criticized Jean Decoux for endorsing his Government's surrender opinion.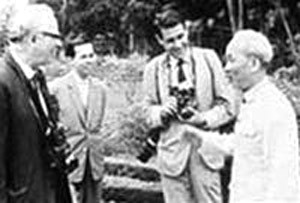 In this undated file photo, President Ho Chi Minh (R) speaks to Australian journalist Winfred Burchett (L)
1945
For the Party's national conference, he suggested: "[We] should hold the meeting immediately and not delay it. We need to count every second and minute since the situation will change rapidly. Don't lose the chance." 
He urged delegates nationwide to arrive early to attend the meeting.  
1946
President Ho Chi Minh along with Mr. and Mrs. Aubrac [his hosts] visited Chantilly Palace and received J. Sainteny, a politician who understood Vietnam's situation and was inclined towards a détente. 
1961
He inspected important dykes at Dong My and So Thuong communes in Hanoi's Thanh Tri District.  
He told the dyke protection force: "Dykes have to be strong however big the floods. You have to watch for the highest water level and not be complacent until the water goes down completely. [You] have to safeguard people's lives and property and public property." 
1963
Nhan Dan (People) published an article titled "Experience: three constructions, three fights" he wrote under the pseudonym Chien Si (Soldier). 
The article said, "[If we] want to build a new palace, [we] have to destroy the old rickety tent. [If we] want the economy to make progress, [we] have to fight backwardness."  
In August 1963, He gave an interview about the US war in Vietnam to famous Australian journalist Winfred Burchett. 
He said: "We are not in disagreement with the American people at all. We want to live peacefully and in friendship with them. Our people are educated to have a true international spirit. Previously, we differentiated between the French colonialists and French people who love peace. Now, we differentiate between the great American people who love freedom and the militarists." 
Also in August 1963, he attended a conference to review the "Teach well, study well" movement. 
He called for greater focus on more moral education, saying education and work have to be combined and cramming and rote learning avoided.    
"A teacher's duty is onerous but glorious. To fulfill their duties, [teachers] have to be exemplary in all aspects, constantly improve their revolutionary morals and political views, and show solidarity." 
1965
He signed a decree to award the Feat of Arms Medal to Nguyen Ba Ngoc, 13, of Quang Trung Commune in Thanh Hoa Province's Quang Xuong District for bravely saving his friend from US troops' fire at the cost of his own life.

By Duong Trung Quoc and his assistants
The author is a historian and member of the National Assembly