1921
A two-day meeting was held at lawyer Phan Van Truong's residence between Nguyen Ai Quoc and several Vietnamese social workers living in France, including Phan Chu Trinh and Phan Cao Doan.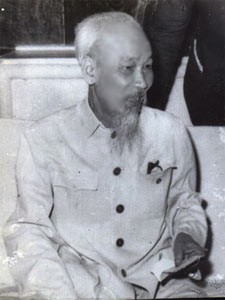 Filed photo of President Ho Chi Minh

By this time, Nguyen Ai Quoc had become one of the founders of the Communist Party of France.
1926
"Revolutionary movement in Indochina" by Nguyen Ai Quoc was published on Inprekorr (International Press-Correspondence) run by the Communist International. The article provided an overall picture of the political changes in the national liberation movement that was taking place in Vietnam.
He wrote: "The political situation in Indochina was as described in a French newspaper in Northern Vietnam: 'The ongoing changes have turned our country, which has long been quiet, into a center of chaos."
1931
Tong Van So, as Nguyen Ai Quoc was known, was tried in absentia for the second time in a Hong Kong court. Despite his lawyers' objections, the court decided to expel Tong Van So from Hong Kong. It announced the order of British Governor in Hong Kong saying he had to leave the colony on August 18, 1931, by the vessel Alger.
The prosecutor read Tong Van So's appeal in which he pointed out the irregularities in the course of legal proceedings and stated that: "Whether or not the court can issue a judgment against me, if I am sent back to Indochina, I will be killed."
The lawyers also called the court's attention to the fact that a Vietnamese royal court in Vinh city had passed a death sentence in absentia on Nguyen Ai Quoc in November 1929.
1945
On President Ho Chi Minh's suggestion, a national conference of the Party was convened at Tan Trao revolutionary base in the northern Tuyen Quang Province as World War II was entering its last days. 
"An opportunity has arisen for us to achieve independence," the conference concluded.
It discussed establishing a people's government, carrying out the 10 policies of the Viet Minh (League for the Vietnamese Revolution), setting up diplomatic relations with the Allies, and applying the principles of actions to ensure a success for the revolution of national liberation.
1952
In "Heroes and intellectuals" he wrote under the pseudonym C. B. on Nhan Dan (The People) newspaper, President Ho Chi Minh said: "Under our new democratic regime, both knowledge and blue-collar workers have the same opportunity to develop their capabilities to serve the fatherland and people. Both are respected and appreciated by the Government and the public."
In the article, he mentioned several prominent intellectuals who had been conferred the titles of Labor Hero or Emulating Soldier -- like Tran Dai Nghia,  Ho Dac Di, Ton That Tung, Dang Van Ngu, Hoang Dinh Cau, and poet Tu Mo.
"The reality is that the Government has high respect for true intellectuals who are willing to join the resistance war. This is enough to prove that we are certain to win the war and the enemy is certain to fail."
1953
In "The Party's centralized democracy" he wrote in Cuu Quoc (National Salvation) under the pseudonym D. X., President Ho Chi Minh said: "If we are to make our Party stronger, we must expand democracy, centralize leadership, and improve organization and discipline."

By Duong Trung Quoc and his assistants
The author is a historian and member of the National Assembly