1931
Tong Van So (an alias of Ho Chi Minh during his revolutionary activities in Hong Kong) claimed Hong Kong's legal procedures had not been followed at the fourth trial involving the "Case of Nguyen Ai Quoc in Hong Kong."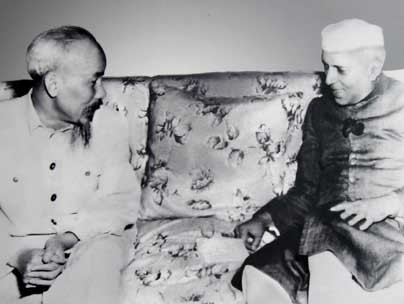 The file photo shows President Ho Chi Minh receiving Indian Prime Minister J.Nehru during his visit to Vietnam on October 17, 1954, a week after Hanoi was liberated. 
"I am a nationalist. According to what we know, nationalism means to fight for kings and country…We are a nation who is struggling for independence and to stand on our legs, however, we need support from the outside. We look to the UK, so I cannot understand why I was arrested by UK authorities," Tong Van So said at the court.
1945
The Communist Party's National Congress, held in Tan Trao in the northern province of Tuyen Quang, decided to rise up in arms to gain power and established the National Committee for Rising and Commanders-in-chief of Vietnam's Liberation Forces.
1947
President Ho Chi Minh sent a congratulation telegraph to Indian Prime Minister Nehru.
In the telegraph, he said: "On the occasion of Indian Independence Day, a solemn day not only for your country but also for the great Asian family, on behalf of the Vietnamese people and myself, I am honored to request you to receive our congratulation and salute and send them to the great Indian people.
"Trusting in good emotions and solidarity between the Indian people and Asian people, the Vietnamese people are determined to achieve independence and unification."
The President also sent another letter with a similar content to General Governor of Pakistan.
1958
President Ho Chi Minh sent condolences to the family of scientist Joliot Curie after his death. The letter said: "The Professor sacrificed his life for peace and happiness of human kind. The Professor's death is a big loss, not only for French people, but also people all over the world."
The two Nobel Prize laureates Joliot and Marie Curie supported Vietnam's independence and met President Ho Chi Minh during his visit to France in 1946.
1969
The President's health continued to worsen and was becoming critical.
By Duong Trung Quoc and his assistants
The author is a historian and member of the National Assembly