1922
In "Communism and Chinese Youth" published in French newspaper L'Humanité, Nguyen Ai Quoc highlighted the achievements of youth movements in China. The article was written three months after the National Congress of the Chinese Communist Union was organized successfully.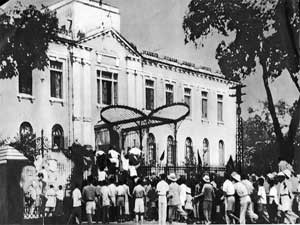 Following President Ho Chi Minh's appeal for a general uprising, people and revolutionary soldiers in Hanoi attacked and occupied the French Governor General's office on August 19, 1945 (File photo)
1947
To mark the second anniversary of the August Revolution (August 19), President Ho Chi Minh wrote "Letter to the nation's people" and "Letter to Viet Bac people."
The former read: "The August Revolution liberated our nation from absolute monarchy and the colonialist chains of slavery. It helped build a foundation for democracy, independence, and unification. By following the example of the 1776 American Revolution, we successfully carried out the August Revolution against foreign invaders. Like the 1789 French Revolution, the August Revolution was based on the ideology of 'Liberty, Equality, Fraternity', and like the 1911 Chinese Revolution, it realized the theory of 'Nation, Civil Rights and People's Welfare'.
"Our nation's ongoing resistance war must follow the glorious tradition of the August Revolution, consolidate the republican democracy, and strengthen our independence and unification. We have an iron will and unity of the people. We have soldiers on the frontline who are willing to sacrifice their lives for the fatherland. We also have the enduring patience of the people in the rear. They are the 'weapons' with which we will defeat the enemy and there is no force that can withstand these 'weapons'. As we dare to pay a price for a possible victory, we will be certain to gain that victory."
To the Viet Bac, he wrote: "The Viet Bac people have created a glorious revolutionary history. In the past, Hoang Hoa Tham and other national heroes rose up against the French for tens of years. Today, Viet Bac is a powerful revolutionary base of our liberation troops against the French and Japanese. Viet Bac's glory is built on the patriotism of its people belonging to many ethnic groups like the Kinh, Tho, Man, Nung, and Meo, who refuse to resign themselves to slavery, always stick together, and are willing to support the revolution."
The president also wrote a "Letter to the nation's children", in which he said: "What is useful to the resistance war, you should try to do. Do as much as possible. You are young, so you should do small tasks. Combined, those small tasks will become a larger task. I hope you study and work to deserve to be children of the Democratic Republic of Vietnam, a unified and independent country."
1949
In an appeal launched to mark the anniversary of August Revolution and National Day (September 2), he wrote: "Our country has entered its fifth year of independence but in the last five years, our people still continue our resistance war. We are determined to sacrifice for the country's independence and unification and for our offspring to enjoy freedom and happiness for good."

By Duong Trung Quoc and his assistants
The author is a historian and member of the National Assembly