1919
In "Issues of indigenous people" in the French newspaper L'Humanité run by the Socialist Party of France, Nguyen Ai Quoc mentioned the "Eight claims of the Annamites [Vietnamese]," which had been sent to the Versailles Peace Conference in June.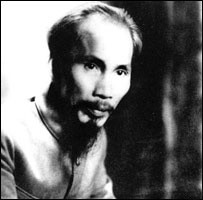 A filed photo of President Ho Chi Minh
He wrote: "With moderate grounds, our aspirations are aimed at key reforms towards liberation of ourselves and freedom rights, without them we will become miserable slaves.
"No one can refuse the truth that if there are no such freedom rights, which are necessary for the dissemination of ideas and knowledge required by contemporary life, then no practical civilization can be had."
1942
Nguyen Ai Quoc, as the leader of Viet Minh (League for the Vietnamese Revolution), composed the "Song of Guerillas" to encourage people of every walk of life to join the fighting against French colonialists and Japanese fascists.
The song read: "Anybody who has a gun, use it. Anyone who has a knife, use it. Having a hoe, use it. Having a rake, use it. Let's attack any French colonists or Japanese fascists with such weapons. Our enemy will certainly fail. Our strength will become stronger and stronger."
1943
Ho Chi Minh continued being detained by the Chinese Nationalist Party. During that time, he composed several poems in Chinese, including "Emotions of Autumn I," "Emotions of Autumn II," "In time of hunger" and "Tran mandarin's visit." These poems were later compiled in the "Prison Diary."
1946
During his visit to France, President Ho Chi Minh received a number of Chinese journalists, former French Prime Minister Edouard Herriot, Marshal Philippe Leclerc and some politicians from the Socialist Party of France.
1950
President Ho Chi Minh attended a conference of central cadres chaired by the general secretary of the Labor Party of Vietnam. The conference discussed preparations for the debut of the Labor Party of Vietnam as a replacement for the Indochina Communist Party. It also focused on a political program for the new Party.
In his diary about this event, the late Finance Minister Le Van Hien wrote: "The meeting was chaired by President Ho Chi Minh, who addressed all questions raised by participants. He asked the conference to seek ways to debut the Labor Party of Vietnam. He also mentioned the necessity for mapping out flexible policies to get workers together, to court support of democrats and nationalists. The re-naming of the Indochina Communist Party as the Labor Party of Vietnam will not only benefit the resistance war but is also in accordance with the common strategy of the world democratic front."
1969
Attending a meeting of the Politburo on Hanoi's reconstruction, President Ho Chi Minh asked the work be carried out in accordance with the plan set forth. The meeting also discussed issues related to diplomatic struggles and the situation in South Vietnam. 

By Duong Trung Quoc* and his assistants
*The author is a historian and member of the National Assembly