1931
A Hong Kong court decided to expel Tong Van So, as Nguyen Ai Quoc was known, after a fourth trial. The defendant's lawyer, Loseby, continued to object to the court's verdict, arguing that since the detention was made wrongly, such a deportation would have no legal foundation.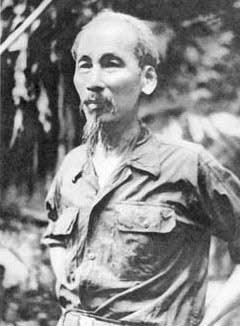 File photo of President Ho Chi Minh
1945
Before leaving the Tan Trao revolutionary base for Hanoi, President Ho Chi Minh met high-ranking officials like Pham Van Dong and Hoang Van Thai and told them: "Our government has been set up. I think you wish to return to Hanoi. But it is impossible now. Lenin once said: 'Seizing power is a hard thing to do, but keeping that power is even harder.'
"You should stay here to help people make their lives more well-off, beautiful, and civilized. No one knows if we will later continue to rely on the support of the people here."
Later developments in the resistance war proved the President's instructions and forecast right.
1946
In Paris, President Ho Chi Minh received some capitalists who were investing in the Hon Gai coal mine and the director of the Indochina Electricity and Water Company.
The President continued to persuade the French Overseas Minister Marius Moutet to launch a public referendum on France's recognition of Vietnam's independence and Vietnam's guarantee of France's economic and cultural interests in Vietnam.
1948
President Ho Chi Minh issued many decrees, including one on instituting the "Resistance War Medal" for conferring on outstanding soldiers and officers and another on establishing the Vietnam School of Physicians to train civil and military health experts.
1962
Speaking at a training class for cadres of the Fatherland Front, the President advised: "The Fatherland Front's policies are of great significance for our revolution. You must properly execute public polices. You must not be authoritarian towards the people. The duties of a democratic government are to serve the people, organize them, educate them, and encourage them to take part in building a new life.
"We must achieve real democracy in relation with the people and decisively fight counter-revolutionaries and saboteurs of people's interests. Let's listen to people outside the Party. Cadres and Party members must not be self-important and must learn good things from everybody. Finally, I wish all of you attain more achievements in your work and always keep in mind the motto: 'Unity, more unity, great unity; success, more success, great success.'" 
1968
President Ho Chi Minh attended a ceremony to congratulate Vice President Ton Duc Thang on his 80th birthday. The president presented his colleague two verses:
As you get older, your morale gets higher
Hardly anyone can surpass you in fighting the US invader

By Duong Trung Quoc and his assistants
The author is a historian and member of the National Assembly