1945
When the general uprising for national liberation was successful, President Ho Chi Minh left the Tan Trao revolutionary base for Hanoi and then went to northern Thai Nguyen Province, where a people's government had been set up two days before.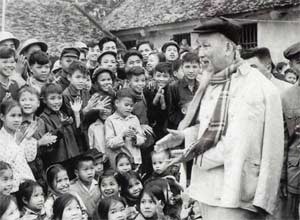 President Ho Chi Minh talks with young people and children in northern Ha Bac Province on February 9, 1967 (File photo)
1946
As part of his diplomatic activities, aimed at preventing a possible collapse of the Vietnamese – French negotiations at the Fontainebleau Conference, President Ho Chi Minh contacted French Defense Minister E. Michelet.
1947
President Ho Chi Minh wrote two poems to praise two children – Pham Do Hai and Le Van Thuc – who achieved good performances as "liaison officers" at Resistance Zone II.
In the poem for Hai, he wrote:
I get to know you acted as a liaison man
Escaping from the enemy's capture
Persuading two French soldiers to follow our revolution
How good you are in your job and propaganda
Make more progress in study and work
I send kisses and love to you
 
For Thuc, he wrote:
How brave you are!
Facing your gun, French soldiers had to surrender
Had to turn in their firearms
I praise you for your merit
Improve yourself to get more advances
Many kisses and love to you
1948
In a letter of thanks to the Minister of Transport and Public Works for the ministry's presentation of a telegram transmission machine to him, the President wrote: "This proves that if we try our best we will gain more successes. I hope the ministry will be enthusiastic in its patriotic emulation movements to make everybody and everything better, and to make it become a good example both in working performance and spiritual strength."
1951
In a letter of praise to soldiers in Thua Thien for their victory in a battle at Phu Vang he advised: "Always keep in mind that we are mainly conducting a guerilla war, so you should help it to be expanded and consolidated everywhere."
1954
In an article, "Party's disciplines must be complied," in Nhan Dan (The People) newspaper under the pseudonym C. B., President Ho Chi Minh wrote: "Unity is the Party's strength. Close unity and strict discipline are inseparable parts. Strict discipline will help maintain unanimity and unification within the Party and among the people.
"Our Party's policy is to expand democracy, criticism and self-criticism and to keep a serious discipline within it. Unanimity in will, action, discipline and leadership is extremely necessary and important. The Party's duty is to wholeheartedly serve the Fatherland and people. Our Party has no other interests except the interests of the fatherland and people."
1969
The President sent a message of congratulations to "the get-together of the world's young people and students for the final victory of the Vietnamese people" held in Helsinki, Finland.
He wrote: "Your gathering is a vivid manifestation of enthusiasm and determination of the young generation who want to realize their noble ideas for freedom, independence and peace, while the Nixon administration is trying to strengthen its invading war, trying to help the Saigon puppet regime, and committing more crimes against our people. This meeting encourages us to try our best to protect our fatherland and achieve a final victory."

By Duong Trung Quoc and his assistants
The author is a historian and member of the National Assembly