1925
 
Thanh Nien (Youth) newspaper published a poem, "Have love for each other and show solidarity," by Nguyen Ai Quoc.
 
1945
 
Ho Chi Minh left the Tan Trao revolutionary base for Hanoi after the general uprising for national liberation had been a success.
 
From Da Phu District, he crossed the Hong (Red) River at Phu Xa wharf and then stayed with a revolutionary family at Ga village in Tu Liem District.
 
1953
 
He visited a re-education class of Military Region I and talked about family to the class' members.
 
"Of course, every one has a family and he must do. However, we are revolutionaries and fighters, and are educated by the Party to have foresight. We have family, and the greatest family is class. If our class is not liberated completely, we won't be liberated completely.
 
"[We] have to consider thoroughly: sacrifice small family for great family or sacrifice great family for our small family. If you consider properly, you won't wonder about your small family. You have to sacrifice personal interests for common ones. All people have their own family and love them. However, there are still some who sacrifice their small family for the great family, such as our martyrs. There are some who don't want to have family to be able to serve the great family with all their heart."
 
1953
 
After a Government Council meeting at the Viet Bac revolutionary base, he composed a poem in Chinese and then gave it to lawyer Phan Anh to read.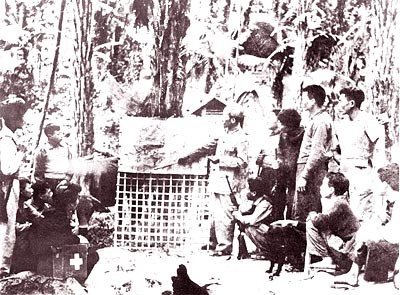 In this undated file photo, President Ho Chi Minh (C) talks about local revolutionary and international situations to soldiers at the Viet Bac revolutionary base
1958
He visited Le Hong Phong Communist Party School under the Hanoi's Party Committee.  
He told the school's officials and students that "Learning theory is for putting it into practice. Study goes together with practice; [you] can work only if [you] study." 
1965

Nhan Dan (People) published an article, "We are determined to win, the enemy is certainly defeated," the President wrote under the pseudonym Chien Si (Soldier).  
He condemned US President Lyndon B. Johnson for stepping up the war while holding peace talks.  
The article said, "The number of US soldiers coming to Vietnam will become the number of lead pieces that weigh upon the US imperialists and will make the US sink further into the mud. If they send 50,000 or 500,000 troops, they will still be defeated and we will win. The only way to establish peace in honor is that the US has to implement the Genève Agreements of 1954 on Vietnam."


By Duong Trung Quoc and his assistants
The author is a historian and member of the National Assembly