1920
During his stay in France, Nguyen Ai Quoc went to a house at 6 Buot in Paris looking for the shop owner who had leased the premises to intellectual patriot Phan Chu Trinh, who used it to set up a photo shop, according to reports by French spies.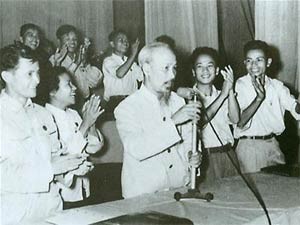 The file photo shows President Ho Chi Minh speaking at the second National Congress of The Vietnamese Labor Youth Union, another name of the Ho Chi Minh Communist Youth Union from 1956-1970, in Hanoi in 1956.
It was a time when young revolutionary Nguyen Ai Quoc studied processing of photographs under Phan Chu Trinh.
1931
In what was later called "the legal case of Nguyen Ai Quoc in Hong Kong," at the fifth trial of Tong Van So, as Nguyen Ai Quoc was called, lawyer F. Genkin laid bare the Hong Kong authorities' deceitful decision to expel his client in an attempt to put him in hands of the French colonialists in Indochina.
Tong Van So's testimony at the court read: "I am 36 years old… I have committed myself to a revolutionary movement in Vietnam in particular and Indochina in general. The ultimate goal of the movement is to overthrow the French rule there and replace it with a national government formed by native people. I was active in this movement for some time before my arrest in Hong Kong on June 6, 1931.
"As stated by the leader of the French Government, participation in such a movement is an offence and the offender shall be subject to the death sentence… The real purpose of the Hong Kong authorities' decision to expel me is to hand me to the French in Indochina for trial for the said charge."
1948
In a letter of praise to Ton That Phung, a railway worker who invented an anti-malaria drug, President Ho Chi Minh wrote: "You have achieved a feat in the patriotic emulation movement".
In the letter, the president also praised the railways, saying: "While our people are not fearful of hardship in their brave fight for the fatherland's independence, if every cadre is true to the motto: 'diligence, thrift, integrity, uprightness,
public-spiritedness and selflessness', our resistance war will surely succeed soon."
The president also wrote a letter of encouragement to Dr Tran Huu Tuoc, a great intellectual who devoted himself to the nation's resistance war. The letter read: "Dear Dr Tuoc, I would like to present you a shirt which was gifted to me by the public. Take care of your health. Do not hesitate to seek help from the local authorities when you need it, since I have advised them about it. I am still in good health."
1953
In "Socialism" on Cuu Quoc (National Salvation), President Ho Chi Minh highlighted the basic characteristics of socialism. He wrote: "All means of production are public property; the force of production mainly comprises workers and farmers; the motto: 'Everyone gets benefit commensurate to their rate of contribution to the society; those who do not contribute get no benefit'; production is based on plans; without differentiation between brainworkers and blue-collar workers and between urban and rural areas."
In his lecture at a political re-education class at the central level, President Ho Chi Minh said: "Today I will talk about writing style, especially short writing. Our supply of ink and paper are not enough for printing long documents, and our time – the time for soldiers to fight and for people to work – is not enough for reading long documents.
"Therefore, we should write as briefly as possible. There are many newspaper articles that are so long that when they reach its middle part, readers cannot remember what the first part said, and when they reach the last part, they cannot remember the middle one."
The president helped the class write answers to such questions as: "Who are we writing for?", "What are our writings aimed at?", "What should we write?" "Where should we seek materials for our writing?" and "How should we write?"
He also told trainees his own experiences and concluded: "Writing, like other jobs, requires a will to succeed. Do not hide our ignorance. Criticism and self-criticism will help us progress. If we have a determination, we will get everything done, no matter how hard it is."
1958
The president attended the inauguration of the Hang Day stadium in Hanoi and then watched a friendly match between Vietnam's Hai Phong and Cambodia's Phnom Penh.
1969
Despite his poor heath, President Ho Chi Minh listened to the Radio Voice of Vietnam broadcast "the charters on agricultural cooperatives" in verse. He then asked people around him to instruct information agencies that such methods to provide information should be used widely to help farmers better understand and remember what they hear."
By Duong Trung Quoc and his assistants
The author is a historian and member of the National Assembly