1931
Tong Van So, an alias of Nguyen Ai Quoc at that time, was tried for the sixth time by a Hong Kong court. His lawyer continued to point out irrationalities in the proceedings in an effort to prevent the court from expelling Nguyen Ai Quoc from Hong Kong and putting him in the hands of the French.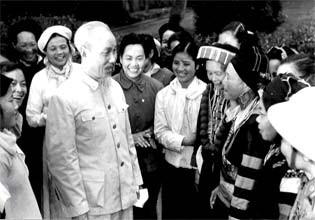 President Ho Chi Minh with ethnic minority women delegates at the third National Women's Congress in 1961 (File photo)
1942
With new alias as Ho Chi Minh, Nguyen Ai Quoc came to San Meng in the Chinese province of Jing Xi for the Zhong Yuan traditional festival on the 14th day of the seventh lunar month. He later left for Chong Qing Province where he was arrested by local militarists of Koumingdang regime.
1945
The President heard reports from two high-ranking officials, Vo Nguyen Giap and Tran Dang Ninh, on the situation in Hanoi at Ga village. He was later welcomed by Party General Secretary Truong Chinh who arranged for him to stay at 48 Hang Ngang Street, the home of patriotic businessman Trinh Van Bo.
1950
In a "letter to officials in charge of the nation's children," President Ho Chi Minh emphasized: "In teaching children, we should focus on love for fatherland, people, and labor, adopting hygienic practices and discipline, and knowledge of culture.
"At the same time, we must help maintain their inherent characteristics like innocence and playfulness, and not make them old before their time. Many letters written to me by children look like they are written by adults – a sign of premature aging that should be prevented.
"Children need to be happy with their studies. At school, at home, and in society, children should be made happy and eager to learn. Today they are children, but in future, they will become citizens. Children's education is a science. You should make yourself examples for children to follow."
1953
At an ideological re-education class for officials in Zone I, President Ho Chi Minh said: "People who improve themselves and help others make progress are heroes of the nation. Therefore, while doing something, you should always try your best and keep your mind on your work; that way you can become heroes."
1969
In reply to US President Richard Nixon's letter, President Hochiminh wrote: "Vietnamese people very much love peace, true peace along with real independence and freedom. The Vietnamese people are determined to fight to the last and are not fearful of sacrifices or hardship to protect the fatherland and the nation's sacred rights.
"You said in your letter that you want to take action for a just peace. To this end, the US should stop its war of aggression and withdraw its troops from South Vietnam. The US should respect the right of self-determination of the people of South Vietnam and the Vietnamese nation.
"That is the most proper way to resolve the Vietnam issue in accordance with the national rights of the Vietnamese people, the US' interests, and the world people's aspiration for peace. With goodwill on both sides, we can make efforts to reach a proper solution."
This is the last official document the President wrote before his death on September 2.

By Duong Trung Quoc and his assistants
The author is a historian and member of the National Assembly