1911
Latouche Tréville, a French cargo ship aboard which Van Ba, as Ho Chi Minh called himself then, traveled, landed at Dunkirk, a French port on the Manche coast.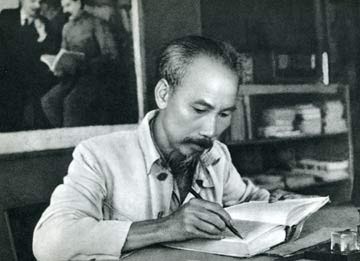 File photo of President Ho Chi Minh
1914
In the British capital London, Nguyen Tat Thanh, another of Ho Chi Minh's aliases, wrote to intellectual patriot Phan Chu Trinh, saying: "Dear Sir, the sound of shooting is earthshaking and dead bodies cover the ground. Five powers have participated in the war and nine countries are fighting each other. I recall your letter written a few months ago about the turbulence. The hand of fate will create unexpected things for us and it is hard to forecast who will be the winner of the war. I think in three or four months the fate of Asia will change and change a lot."
This was the first political document written by Ho Chi Minh on the world situation in his revolutionary career.
1945
At 49 Hang Ngang Street in Hanoi, President Ho Chi Minh convened a meeting of the Party Central Standing Committee to discuss major internal and external issues facing the independent state of Vietnam, including expanding the provisional government, drafting the declaration of independence, and preparing for the announcement of independence.
The same day he met with A. Patty, the commander of the US' Office of Strategic Services in Kunming, China, who arrived in Hanoi.
The US official later recalled the meeting in his memoirs. "I was very glad to see him again, but I was very surprised at the contrast between his slender stature and his wide front and his face radiant with smile. He wore a dark brown shirt and a wide trouser…
"He was uncomfortable with the fact that Vietnam would have to receive a good number of Chinese troops, who, he said, along with Japanese troops in the country, would undermine the country's resources. He imagined the chaos in Vietnam if the occupying Chinese troops commit crimes like robbery and abuse.
"He asked me to report to the Allies about what he thought would happen and I promised to do it. With a familiar smile, he said a Vietnamese government mission was on the way to Hue for the abdication of King Bao Dai.
"An important issue for him is that the US continues to impose its colonialist policy on Indochina. He called himself a person of the 'nation, society and progress', a person who has a vehement desire to release his country from the foreign yoke. He was fluent in his speech. In communication, he was not ceremonious but showed a sincere, decisive, and optimistic attitude."
1965
President Ho Chi Minh visited Missile Regiment 23's Battalion 61 which was positioned on the outskirts of Hanoi to protect the capital.
1969
President Ho Chi Minh's health deteriorated while being treated at Military Hospital 108 in Hanoi. One time, when the president recovered and said he wished to listen to folk songs, a nurse on duty sang for him and he gave her a rose.

By Duong Trung Quoc and his assistants
The author is a historian and member of the National Assembly