1922
During his stay in Paris, France, Nguyen Ai Quoc and some members of District 17's Party Cell of the Communist Party of France took a stroll in a wood in Fontainebleau. This activity was watched by French secret agents.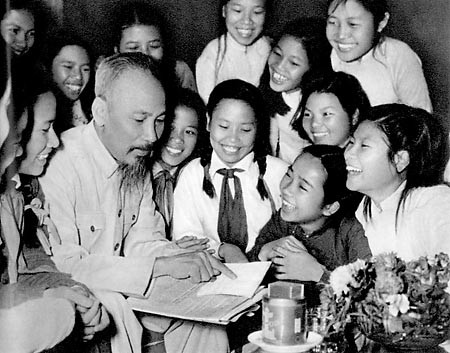 President Ho Chi Minh with Hanoi students who visited him in May 1959 (File photo)
1942
Ho Chi Minh left Vietnam's northern Cao Bang Province for the Chinese province of Zhong Qing to seek support for the Vietnamese revolution, but he was arrested by the police of the Chinese Nationalist Party in Jing Xi District, Guang Xi Province, which belonged to the Fourth Resistance Zone.
Although having an ID issued by the International Anti-Invasion Association in Vietnam and a membership card of the International New Literature Agency, they were suspicious that he was a spy, as his papers had expired, reported the commander of the zone, Zhang Fa Hui.
During his detention, Ho Chi Minh managed to secretly send a letter to revolutionary organizations in Vietnam asking them to launch a campaign to lobby the Chiang Kai-shek administration to release him.
As a result, hundreds of appeals from people in the Cao Bang - Bac Kan - Lang Son Resistance Zone, and from Vietnamese living in Hua Nan, were sent to the headquarters of the Chiang Kai-shek administration in Zhong Qing and embassies and news agencies of China and other countries.
The Communist Party of China's representative in Zhong Qing Province worked with the US's Office of Strategic Services to put pressure on the Chinese government to release Ho Chi Minh and to cooperate with him in fighting Japanese fascists in Indochina.
However, he was not released until October 1943 after being transferred through many prisons in China. During the time, he composed many poems that were later complied in his work "Prison Diary."
1945
In Hanoi, President Ho Chi Minh convened the first meeting of the National Liberation Committee, in which he initiated a policy on national unity which served the establishment of a national united government, and included representatives of patriotic political parties and non-partisan intellectuals and celebrities.
In response to his initiative, many members of the Viet Minh (League for the Vietnamese Revolution) voluntarily declined to enter the government in order to leave more room for people with other backgrounds.
At the meeting, Ho Chi Minh was elected Chairman of the provisional Government of the Democratic Republic of Vietnam. Of this government, three members were from the Democratic Party of Vietnam, one was a Catholic, and many others were non-partisan.
The same day, the government issued an announcement: "Under President Ho Chi Minh's directive, the National Liberation Committee has decided to self-reform and invited a number of intellectual patriots to participate in the cabinet to take on national duties entrusted by the people.
"The provisional Government is not a government of the Viet Minh, it is a national united government that runs the country until the National Assembly elects an official Government of the Democratic Republic of Vietnam."
Commenting on this important event, President Ho Chi Minh wrote: "That move proves a fair mind and is a manifestation of not being greedy for power, with the interest of the nation and of the people's unity being put above all else."
By Duong Trung Quoc and his assistants
The author is a historian and member of the National Assembly