1942
After being arrested by the police of the Chiang Kai-shek administration in Jingxi District in China's Guangxi Province, Ho Chi Minh was taken to a jail in Tianbao District.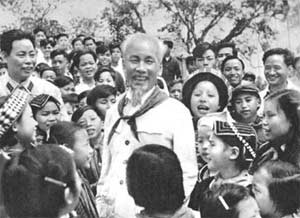 President Ho Chi Minh with children at  Viet Bac  in 1960 (File photo)
1945
At 48 Hang Ngang Street, Hanoi, Ho Chi Minh spent a lot of time preparing a historic document: the Declaration of Independence.
General Vo Nguyen Giap's memoirs read: "In the small house without enough light, President Ho Chi Minh was working on the declaration. He wrote and then typed.
"The help did not know what the old man with sharp eyes, a faded brown shirt, and often cigarettes was doing. Whenever they came to him asking what they could do for him, the old man just said no and smiled and spoke briefly to them. They did not realize they were witnessing a historic moment.
"One morning, the President and Party General Secretary Truong Chinh called us in. The Declaration of Independence was complete. The president read it out to everyone.
 
"At that time, on behalf of the nation, the President marked a milestone for a struggle that had lasted for 80 years. That day we clearly saw a radiant joy on his face.
"As he recalled later, that was the moment when he felt the most excited. Twenty-six years ago (1919) the president attended the Versailles Peace Conference to speak about crucial issues related to democracy, civil rights, and the interests of colonial people. But even these minimum demands were flatly rejected by the imperialists.
"The president got to know the truth that he could not expect humanity from capitalists, but he had to rely on the nation's struggle which was being run on its own strength."
1946
During his stay in Paris, France, President Ho Chi Minh continued his lobbying to salvage the relations between Vietnam and France that had reached a deadlock. He met and spoke with many top political personalities like Justice Minister Pierre-Henri Teltgen, Agriculture Minister François Tanguy-Prigent, and Transportation and Public Works Minister Jules Moch. 
1947
In an interview to Doc Lap (Independence) newspaper about the expansion of the Government, President Ho Chi Minh said: "The Government consistently pursues a policy of great unity. People with talent and virtue, no matter if they are mandarins or ordinary people, are welcome and invited by the Government to take on national duties.
"Many former high-ranking royal officials have helped the nation's resistance war, including former minister Dang Van Huong, former province chief Pham Gia Thuy, the King's former special envoy Phan Ke Toai, and junior doctor Bui Ky.
"In the face of the unity between our Government and people, all attempts by the enemy to sow divisions among us will surely fail."
1963
Attending a meeting of the Politburo on implementation of the State's plans, President Ho Chi Minh said: "We have so far been good at speech but what have we got done in practice? We have launched a policy on thrift, but what practical measures have officials in charge of that policy taken?"
1969
President Ho Chi Minh's health became seriously worse. However, whenever he recovered, he would ask: "How is the military situation in South Vietnam?" 

By Duong Trung Quoc and his assistants
The author is a historian and member of the National Assembly