1919
Nguyen Ai Quoc sent to Jean Ajalbert, a French writer who sympathized with Vietnam's struggle for freedom, a lot of materials, including "Eight claims of the Annamites", his articles on L'Humanité related to these claims, and news about the death of patriotic scholar Phan Chau Trinh.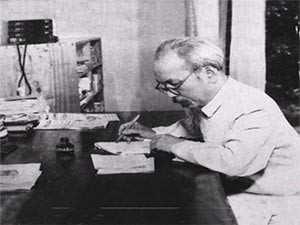 File photo of President Ho Chi Minh
1946
President Ho Chi Minh stepped up his lobbying among the French political elite and media, including newspapers like L'Ordre that were often critical of Vietnam.
A diary of his voyage to France read: "But when senior journalist Emile Buré of L'Ordre met President Ho Chi Minh, he showed a courteous attitude towards the President, who told him about the situation in Vietnam and our people's aspirations. Mr. Buré was touched by the President's statements. He later sent his subordinate to talk to the President and published an article in support of Vietnam."
1947
In a "letter to the Indonesian soldiers and people," President Ho Chi Minh expressed his "strong belief that the Indonesian people's brave struggle will achieve success, as will the Vietnamese people's resistance war and building of their country."
1949
President Ho Chi Minh sent a letter to the Viet Bac agriculture conference saying that its plans should be appropriate for the situation at each locality. He asked members to set up a close relationship with the public and initiate new measures to boost production with the spirit of a pioneering soldier.
In a message to the conference on intelligence issues, he wrote: "Intelligence is like ears and eyes of our army. Those ears must be keen and those eyes must be sharp in observing the enemy's situation to facilitate our fight against them. There is a saying that 'if you know the enemy and know yourself, you need not fear the result of a hundred battles.'
"Therefore, we need to know clearly about our enemy's situation bur avoid letting them know about us. It is the duty of intelligence to keep our situation secret and prevent leaks in information to the enemy. Intelligence is a science. People engaged in the job must ensure confidentiality, prudence, cleverness, and patience."
1953
In an article titled "Standards for members of the Labor Party of Vietnam" he wrote under the pseudonym D. X. on Cuu Quoc (National Salvation) magazine, President Ho Chi Minh wrote: "1. Not exploiting people. 2. Devoting the entire life to serving the people. 3. Always improving the working class ideology. 4. Always putting the Party's and people's interests above everything else. 5. Following Party discipline. 6. Setting up a close relationship with the public. 7. Regularly indulging criticism and self-criticism."
1966
In a letter of praise to the Hanoi fire brigade, President Ho Chi Minh wrote: "You have shown your activeness, courage, and patience in fighting fire. You have coordinated well with the public in doing your task; you should regularly train firefighters to improve their skills."

By Duong Trung Quoc* and his assistants
*The author is a historian and member of the National Assembly