1945
President Ho Chi Minh revised the Declaration of Independence for the last time and worked with the organization committee for its announcement ceremony, asking them to carefully prepare to make the event a success.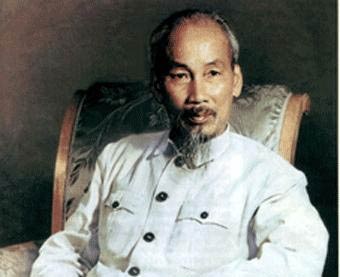 File photo of President Ho Chi Minh
1946
In a congratulatory message to Jawaharal Nerhu, who later become the prime minister of India, on the establishment of the interim Indian government, President Ho Chi Minh, staying in France, wrote: "The first liberal Indian government has been set up. I believe that the affectionate bond between our both countries will help build a common happiness for both our people. Please accept the Vietnamese people's deep sentiment, empathy and solidarity to the Indian people."
The same day saw the President continue his political lobbying for Vietnam's independence. He met with many high-ranking officials at the conference of 21 allied countries in Paris and had a meeting with a French youth delegation.
1958
The President visited the accommodation quarters of the Hanoi Women Union and met with children there. He advised the Union: "Children are the next generation of a country and the future of society. You should take care of them and educate them thoughtfully."
1959
President Ho Chi Minh signed a decree to promote many high-ranking leaders of the Vietnamese People's Army, such as General Nguyen Chi Thanh, Senior Lieutenant Generals Van Tien Dung and Chu Van Tan, and Lieutenant Generals Nguyen Van Vinh, Hoang Van Thai, Tran Van Tra and Song Hao.
1960
In a letter to educational managers, teachers and students for the new school year, the President wrote: "Education is a key factor in the building of socialism in the North and the struggle for the country's unification. Studying must go along with practicing, theory must be connected to reality."
The same day he received international delegations arriving in Hanoi to attend Vietnam's National Day (September 2) and a congress of the Communist Party of Vietnam.
Talking with them and local officials, he said: "We are here as the siblings of one family. We hope that you feel at home," and presented them two lines of poetry:
"Brothers and sisters unite together
Showing great affection and ardent love."
1963
Attending a conference on propaganda and education for mountainous areas, he said: "Propaganda must be conducted specifically and practically. What should we propagandize? Whom will we propagandize to? What are our propaganda's goals and how can we propagandize?
"What is our propaganda based on? It is our revolutionary enthusiasm, our love for people of various ethnicities and our wholeheartedness in serving them. In propaganda, we do not need to make lengthy speeches but we should focus on practical and feasible policies and make them well known to the public so that they can carry out those policies. Our people are very sincere and good-natured. If we give them proper instructions, they can follow them and execute them successfully."
1969
Despite his critical health, the President kept following military developments. He presented a flower basket to Division 361 as a reward for their gunning down a US unmanned aircraft.
The reward was the last he presented to soldiers before his death on September 2.

By Duong Trung Quoc and his assistants
The author is a historian and member of the National Assembly