1923
"The yoke of oppression is not exclusive to any race" by Nguyen Ai Quoc was published on French newspaper Le Paria, in which he mentioned the funerals of a Soviet Union envoy killed by fascists in the city of Lausanne, Switzerland, and a Tunisian worker killed by the French police in Paris.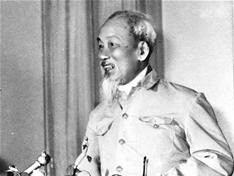 President Ho Chi Minh speaks at a Government Council meeting in 1968 (File photo)
In the story, he commented: "All the workers killed in Lausanne, Paris, Havre, or Martinique were victims of the same killer: international capitalism. The greatest consolation to their soul might be their firm belief in a victory of the suppressed nations' struggle for liberation.
"Following these killings, people who are being oppressed must have understood who their friends are and who their enemies are."
1928
Nguyen Ai Quoc visited Udon in Northeast Thailand, where a large Vietnamese community was living. During his stay here, under the name Thau Chin, he joined activities initiated by the Association of Vietnamese Revolutionary Youth and called on this organization to expand their operation.
1946
In preparation for a conference to be held in Fontainebleau, President Ho Chi Minh stepped up his lobbying activities, contacting General Louis-Constant Morlière, who was going to replace General Jean Etienne Valluy as the commander of French troops in Indochina, and visiting the family of former prime minister, Léon Blum, in Paris. 
1947
President Ho Chi Minh signed a decision to appoint former Minister of Interior Ton Duc Thang as Especial Inspector.
1952
In "Jets" he wrote for Cuu Quoc (National Salvation) under the pseudonym D. X., President Ho Chi Minh commented on the fact that many US pilots refused to join in the war in Korea. He concluded: "It will come to nothing if modern weapons are used by people with low morale."
1967
At a meeting with Senior Lieutenant Colonel Dang Tinh, the political commissar of the Air Defense Command, President Ho Chi Minh asked: "Why did you fail to shoot down a US B52 aircraft?" and advised the air defense force to find ways to attack B52's.
Following this, Missile Regiment 238 later gunned down its first B52 in Vinh Linh District, Quang Tri Province.
1968
At a meeting of the Ministry of Public Security's Party Committee on Hanoi's security protection, he said "the capital must be made 'clean' spiritually and materially" and that "Hanoi authorities must have determination to fulfill the task." 
The president sent a letter of praise to people in Quang Binh Province for their great contribution to the "For the South" campaign, in which they donated 2,600 tons of rice.
1969
Despite his poor health, he attended a meeting of the Politburo to discuss foreign trade and personnel issues.

By Duong Trung Quoc* and his assistants
*The author is a historian and member of the National Assembly