1946
 
President Ho Chi Minh continued his efforts to end the impasse the Fontainebleau Conference on Vietnam-France relations had reached by having contacts with the chairman of France's National Assembly, leader of the Socialist Party, Vincent Auriol, chairman of the French Human Rights Organization, Professor Emile Kalm, and some parliamentarians. 
 
"Journey Diary" recorded his daily routine: "Every day, he read around 25 newspapers including morning, afternoon, weekly, and foreign ones. If there was any good news, he marked it and asked comrades to read it. When he had to receive many guests, he usually stayed up until two o'clock at night to read newspapers. Seeing him stay up late and get up early, his entourage, doctors, and Mr. and Mrs. Aubrac, his hosts, asked him to go to bed early, but in vain."
 
1947
 
On the occasion of the Press Congress, he wrote a letter saying: "Since the resistance began, though there have been difficulties, you have tried to fulfill your duties. That is excellent but you need to try harder."
 
"Words have to be comprehensible, decent, and joyful to make readers happy as well as be useful to them. Soldiers at the front use guns to fight the enemy and you use pens. The resistance will surely win."
 
On the same day, he signed a decree that the position of National Military General Commander-in-chief (then held by Vo Nguyen Giap) will hold a minister's rank and the incumbent will be a member of the Government Council.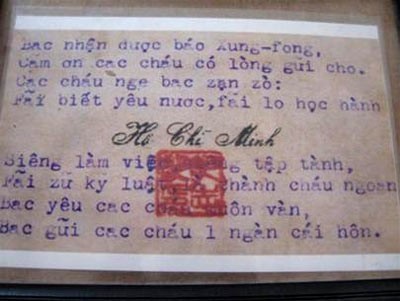 A greeting card President Ho Chi Minh sent to Xung Phong (Vanguard), a newspaper published by young resistance fighters, in 1947

 
1948
 
He wrote to the head of Ha Tinh Province's Mass Education Service to praise the province for having some villages where illiteracy had been eliminated.
 
He also wrote to Quynh Coi District in Thai Binh Province, the country's first district to eliminate illiteracy.
 
The letter said: "It is a glorious achievement. [It] was achieved thanks to the care from old people, the notable and scholars, the assistance from organizations and teachers' and residents' ardor. We also have to mention the encouragement for learning by the Mass Education Service."
 
1965
 
On the 10th anniversary of the establishment of the Vietnamese People's Navy, he wrote a letter saying, "I am very happy about your glorious achievements. Though the service is young, its soldiers have fought bravely, killed enemies, shot down fighters, driven off US warships, showed solidarity, and protected the people and the Fatherland's airspace and territorial waters. You have enhanced the nation's heroic tradition."
 
1968
 
The Army's Logistics organized a conference on good drivers and mechanics. He presented it a flag on which were embroidered the sentences: "Love vehicles like children. Value gasoline like blood. Overcome all difficulties. Fulfill duties."
 
1969
 
He and Prime Minister Pham Van Dong visited lawyer Trinh Dinh Thao and officials of South Vietnam's Alliance of National, Democratic and Peace Forces, who were visiting the North. 

By Duong Trung Quoc* and his assistants
*The author is a historian and member of the National Assembly