1945
President Ho Chi Minh was informed by US Major Allison K. Thomas, the head of the US special unit "Deer Team" in Tan Trao Resistance Zone, that the US had dropped an atomic bomb on the Japanese city of Hiroshima – an important event that strongly influenced the situation in Indochina, which was occupied by the Japanese at the time.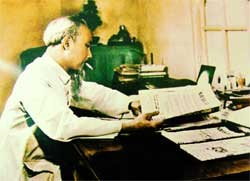 (File photo) President Ho Chi Minh, who in 1959 advised teachers that they "should focus your efforts on learning to improve yourself, improve your teaching and contribute to improving our society."
1946
In Paris, President Ho Chi Minh received journalist Charbonnier from the French newspaper L'Ordre.
In a diary about his voyage to France: "This newspaper belongs to the right-wing, which is often critical of us. But after his talk with the President, the journalist wrote a story in a moderate style.
The same day the President visited Chinese Foreign Minister Wang Shi Jie who came to Paris for a peace conference. They had an intimate talk, since the Vietnamese and Chinese people had had a long-standing relationship.
1947
In a message to the conference on popularization of education held for Zone XII, including the northern provinces of Lang Son, Bac Ninh, Bac Giang, Hai Ninh, Hon Gai and Quang Yen, President Ho Chi Minh wrote: "Since the resistance war started, despite many difficulties, the education movement has been stepped up. This is good. The movement will help us gain big achievements in the field of culture, just as other achievements we have gained in other fields in our resistance war."
1950
In an order to the Party Committee of the Viet Bac region, President Ho Chi Minh wrote: "Guerilla forces in the provinces must be consolidated and developed to attack the enemy in the fall-winter period and grind down their strength in areas under their occupation. This order is executed together with another order on launching a week of emulation to kill the enemy."
1952
In "Asian people gain victories," under the pseudonym D. X., in Cuu Quoc (National Salvation), President Ho Chi Minh wrote: "All over Asia, there have been persons who share a common goal: to struggle against white men to get back their lands that are rich in oil and their fields that are filled with crops. They have launched struggles and have gained victories."
1959
At a class for political training for teachers, in which many education-related issues were mentioned, President Ho Chi Minh said: "As you all know, today's teachers are not those making a living by teaching but those in charge of training good citizens and good cadres for the country. It is a glorious duty.
"Therefore, you should perfect yourself to fulfill that duty. Do not be self-satisfied or stop learning, since when you halt you will lag behind your counterparts. You should focus your efforts on learning to improve yourself, improve your teaching and contribute to improving our society."


By Duong Trung Quoc* and his assistants
*The author is a historian and member of the National Assembly