1922
Nguyen Ai Quoc attended a meeting of the Communist Party of France's District 17 Party Committee in Paris and took part in delivering Le Paria newspaper. The French intelligence agency kept a close watch on his activities.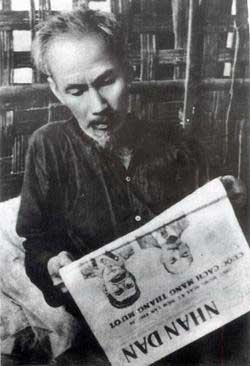 File photo of President Ho Chi Minh
1946
President Ho Chi Minh received a Marxist cultural group and entertained former French Minister of Interior D'Astier Vigneri, who was by then a congressman and the editor of a newspaper sympathetic to Vietnam. 
1952
In the poem "Congratulations on the inauguration of the East Volga canal" in Nhan Dan (The People) newspaper, President Ho Chi Minh praised the Soviet people's work. 
The poem read:
Broaching a mountain or filling an ocean
Refining rocks or conquering the sky
No matter how hard it is
Iron will can make it happen
We are in a resistance war
To fight colonialists
When we gain success
We will rebuild our country
Soviet Union is a vanguard
Vietnam will follow
With our great efforts
Triumph will come soon  
Welcome East Volga
We raise a red flag
Surely to win the war
Surely to build the country
1953
At a political re-education class for patriots and intellectuals, the president said: "While our country faces hardship, cadres with high morale will not fear anything – the enemy or any arduousness. Cadres must be pioneers in undertaking difficult works. That way, you will deserve to be true revolutionary cadres."
1954
In "The international spirit of the working class" on Nhan Dan, President Ho Chi Minh expressed appreciation for the acts of support by many countries to the Vietnamese struggle for independence. One of them was in May, when port workers in Algiers, Algeria, stopped work and refused to take part in the transport of French troops and weapons to Vietnam.
He concluded the article with four verses:
How invaluable workers' international spirit is!
Cannot be measured in gold or anything else
Workers on every corner of the earth
Showing mutual affection and assistance  
1959
During a visit to China, President Ho Chi Minh went to Xi'an, the capital of the province of Shaanxi, which has well-known historical relics. He also visited Da Xi In pagoda and climbed up the Da Yan Tower.
1961
The President sent a congratulatory message to Soviet leaders on the country' successful launch of the Oriental II spacecraft piloted by astronaut Vladimir Titov, who was later conferred a Hero of Labor award by Vietnam and became the chairman of the Soviet Union – Vietnamese Friendship Association.
1964
President Ho Chi Minh attended a ceremony to honor naval and air forces that achieved victories on August 2 and 5 while defending against US air attacks on North Vietnam. He said: "Our people love peace very much, but if the US and its lackeys attack the North, then the people are certain to defeat them."
1965
Addressing a conference to launch a movement titled "Determination to defeat US invaders" among the armed forces, President Ho Chi Minh said: "Our nation is a heroic one. Every conspiracy by the enemy will be defeated by our armed forces and will be consumed by the revolutionary fire of our people."
By Duong Trung Quoc* and his assistants
*The author is a historian and member of the National Assembly