1919
A meeting of overseas Vietnamese was held at Nguyen Ai Quoc's residence in Paris. French spies continued to monitor his political activities in France.
1922

Attending a meeting of the French Colonial Union's Secretariat to review its activities, Nguyen Ai Quoc told the union to set up an organization to create jobs for people from colonies living in France.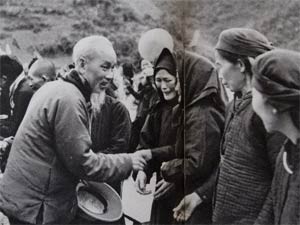 President Ho Chi Minh meets people in Pac Bo, Cao Bang Province, when he returned there in 1961 after a 20-year gap (File photo)
1931
In what was later called "the legal case of Nguyen Ai Quoc in Hong Kong," Tong Van So, an alias of Nguyen Ai Quoc at that time, lodged an appeal to the British Secret Council which was later approved by the Hong Kong Supreme Court.
1940

In "Fabrication" in Cuu Vong Nhat Bao (Salvation Daily) newspaper, Nguyen Ai Quoc denounced the Japanese fascists' tricks in their psychological war.

It said: "In any aspects, the fabrication is aimed at sowing division among Vietnamese. We must be aware that fabrication is more harmful than toxic gas. We must be vigilant and take all precautions in order not to be taken in by that fabrication."
1942

Ho Chi Minh was taken to Tian Jiang jail in China's Guangxi Province where he composed a poem in Chinese titled "Thien Giang Nguc 1-12" (Tian Jiang Prison December 1).
The poem was later translated into Vietnamese by Bang Thanh.
It read:

Outside the jail are sixty-nine tanks for burial of dead bodies
Tens of such tanks are placed inside it
The jail is like a 'drug store'
Or it can be called a 'pickled fish market'
1949
In "Uncle Ho's Children's Award" in National Defense Army newspaper, President Ho Chi Minh said children from a province had sent a shirt and 1,400 dong to him to reward the army unit that achieved the best military victory.

The article read: "I would like to add 600 VND to the sum and offer the money and the shirt as Uncle Ho's Children's Award to outstanding army and guerilla units in central Vietnam. Children are anxious to hear news of victory. Soldiers should try to achieve a better performance in fighting the enemy."

1953

The President presented a report titled "Land reforms: Current situation and tasks" at the third session of the first National Assembly in Hanoi.
1954

In "Brave Southern Vietnam" in Nhan Dan (The People) newspaper, the President praised the brave sacrifice of heroine Vo Thi Sau in the South, considering it an example for young people to follow.
1962
Speaking at the third National Literature and Art Congress, the President said: "Once the nation is under the foreign yoke, artists and writers suffer a loss of freedom. To claim freedom, they must join revolutionary activities … The public expects to read works that can keep pace with our glorious times and honor excellent individuals and outstanding achievements. Characters in such works will be examples not only for people to follow now but also for educating next generations.

"When we comment about cultural and art activities, we must ensure our comments are proper and reasonable. When a person is given excessive praise or honor, he or she may feel embarrassed, even ashamed. On the contrary, when a person is excessively criticized, he or she may find it hard to accept our criticism…

"To fulfill your noble tasks, you must perfect your revolutionary virtues, be modest to everyone, get along with the public, learn politics, improve your professional skills, and help young people make progress. That way, you will bring a new vitality to the country's literature and art."
By Duong Trung Quoc* and his assistants
*The author is a historian and member of the National Assembly