1919

Nguyen Ai Quoc went to the Sainte Geneviève Library in Paris and met several Vietnamese there even as French spies monitored his political activities in France.
1920

Nguyen Ai Quoc attended a meeting of the Socialist Party of France's Cell 13 in Paris, with spies continuing to monitor his political activities.

1923

Nguyen Ai Quoc came to Moscow, where he was admitted to the Oriental Department of the Communist International.

He stayed at the Lux Hotel.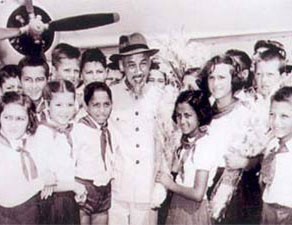 President Ho Chi Minh with Romanian children during his visit to the country in August 1957 (File photo)
1953
In "One minute" he wrote under the pseudonym C. B. in Nhan Dan (The People), President Ho Chi Minh advised: "To save time, everyone must be well prepared for their tasks and responsible for their work, and keep in mind that a minute is as valuable as an ingot of gold."
1958
Speaking at a training class for police officers at the central level, President Ho Chi Minh said: "Fighting the enemy outside us is difficult, but the struggle against internal foes is more difficult. To make that struggle a success, you police officers must strengthen your organizational structure and tighten your disciplinary system. You must do your tasks thoroughly and practically. Everything must be well prepared before they are carried out. Do not be self-conceited.
"You should make the best use of your strong points and correct your shortcomings, and must wholeheartedly work for the sake of the public. You should love the people and get close to them so that they will trust and support you. To do your tasks well, you should strengthen solidarity with the public and other official agencies."
December 1958

In "Revolutionary virtues" in the Party's Hoc Tap (Learning) magazine, the President considered them a crucial foundation of the nation's revolution.
The article read: "A man with good physical fitness can lift a heavy object and carry it a long distance. Likewise, cadres need to be equipped with revolutionary virtues so that they can carry out their tasks best. Born in the former society, all of us might possibly acquire bad behaviors and lifestyles created in that society … The worst and most dangerous 'product' of the former society is individualism, which we must drive away …
"Cadres who imbue themselves with revolutionary virtues will not be conceited in victory or discouraged by failure. They will be the first to work for the common good and last to enjoy benefits. They will not be bureaucratic, vain, or corrupt. In brief, revolutionary virtues are characterized by such qualifications".
1965
Attending a Politburo meeting held to discuss the nature of the war waged by the US in South Vietnam, the President explained some military terms used by the US, like "local war" and "special war."
"No matter what terms are used by the US for the war, we consider it an 'invading war' and are determined to win it," he said.
He predicted that the US would experience an internal conflict during its presidential election and called on everyone to be on high alert against its possible bombing of Hanoi and Hai Phong.
Before long, his predictions came true. 
By Duong Trung Quoc* and his assistants
*The author is a historian and member of the National Assembly