1919 

French detectives reported that Nguyen Ai Quoc visited the Luxembourg Garden in Paris after his trip to the Sainte Genevieve Library.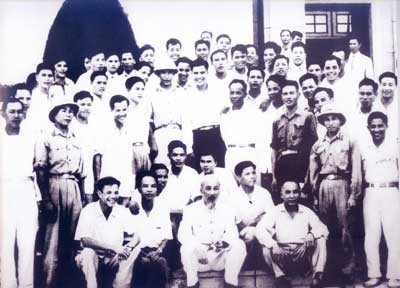 President Ho Chi Minh with police officers in 1960 (File photo)
1946
President Ho Chi Minh told a Paris-Saigon journalist that "My compatriots and I sincerely want peace. We don't want war. I know that French people don't want war. We want to avoid this war by any means possible. We are earnestly [seeking] independence, but an independent Vietnam in the French Union. Vietnam needs to be built and doesn't want to be a place that buries many lives. But if we are forced to engage in the war, we will. We are not strangers to [threats] waiting for us.  
"France has formidable means and the fight will be disastrous, but the Vietnamese people are ready to suffer anything to attain freedom. Anyhow, I hope that it won't come to that. Neither France nor Vietnam can waste energy and cause a disastrous war. It will be catastrophic to have to rebuild a country out of devastation." 
Cuu Quoc (National Salvation) published two of his articles.  
In the article "Strategies of our and France's armies", he wrote, "Our strategy is offensive and [relies on a] lightening attack, while the enemy's is defensive. Regarding combatant methods, we apply mobile warfare together with guerrilla warfare. A long-term resistance needs adequate preparations and of course goes through many arduous and miserable periods. But we will surely win in our self-defense fight." 
In the article "Economic encouragement", he wrote, "Our long-term resistance will win thanks to our successful economic encouragement, because if we know how to provide encouragement astutely, our strength will be sufficient and enduring. I hope all of the people will try in this regard." 
1951
Nhan Dan (People) published the his articled titled "Sense of responsibility".  
The article said, "…With a determined mind to sharpen officials' sense of responsibility, we will surely defeat shortcomings as well as colonists." 
Also in this year, during a talk at the second course of the Police School, he said, "Being a police officer is not being a 'revolution mandarin'. A police officer keeps order and security for people and uncovers reactionary plots that harm people. From the President to transport staff, if they can't work for people, people won't need them. How many police are there? Though there are some thousands or 50,000, it is still few compared to people's forces. There must be dozens of millions of hands, eyes and ears. To have that, [we] have to reply on people and not isolate [ourselves] from them." 
1958
Receiving National Assembly delegates after the 9th session of the first NA ended, he said, "If all people, the Party and the Government try, we will have a chance to celebrate greater victories."  
By Duong Trung Quoc* and his assistants
*The author is a historian and member of the National Assembly