1912
Nguyen Tat Thanh, an alias of Ho Chi Minh when he was young, sent a letter to the French Resident Superior in Central Vietnam. In the letter, he asked the French official to look for his father, Nguyen Sinh Huy.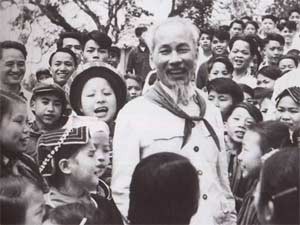 File photo of President Ho Chi Minh
 The letter was sent from New York, USA.
He also sent a letter to his elder brother Nguyen Sinh Khiem, who was working at the French Resident Superior's Office in Central Vietnam. In the letter, Thanh requested his brother ask the French Government to allow him to study at the Colonial School in Paris, France.
1919
According to a French intelligence report, Nguyen Ai Quoc (another alias of Ho Chi Minh) had a relationship with the Socialist Party of France's L'Humanité newspaper.
The report also said he frequently went to the Sainte-Geneviève Library in Paris, where he met with many French.
1921
Nguyen Ai Quoc attended a meeting held by the French Communist Youth Union in District 13, Paris.
1944
Nguyen Ai Quoc sent a letter hidden in a cigarette packet to Vo Nguyen Giap. The letter was actually a set of instructions for establishing the Vietnam Armed Propaganda and Liberation Team.
The instructions said: "1. As demonstrated by its name, the team operates more in politics than military affairs. It is in charge of supporting and training military officials in various provinces. The team's members will be selected from guerillas in Cao Bang, Bac Kan and Lang Son provinces, and the team will be equipped with weapons. 2. The team will train armed units, exchange experience with them, assist them in communication issues, and coordinate with them in military operations. 3. Guerilla war strategies must be carried out secretly, rapidly and actively, and diversionary tactics should also be applied."
The instructions also read: "Initially the team will operate on a small scale, but in the future, it can be developed strongly. It will act as a start-up for the liberation army and will operate nationwide, from North to South.
One week after the instructions were announced, the country's regular army was established and later became the Vietnam People's Army.          
1945
In a letter to Hanoi's suburban residents, President Ho Chi Minh said: "I am very touched by your love for me and your suggestion that I am eligible to join the National Assembly without undergoing the general election. However, I am a citizen of the Democratic Republic of Vietnam so I must comply with general election regulations.
"I have registered to be a candidate in Hanoi, so I cannot do the same in any other locations. I sincerely thank all of you for your respect and love for me."
1954
During a visit to Bach Mai hospital, which was taken over from the French management board, the President advised: "Once you have become free and independent persons, you must be what you should be. From working, thinking to actions, you must show your position."
1966
The President sent a letter of praise to Hanoi soldiers for shooting down the 1,600th US attack plane in the North.
Along with the letter, he presented the Hanoi people and soldiers with a flag that read: "Determination to defeat US invaders." 
By Duong Trung Quoc* and his assistants
*The author is a historian and member of the National Assembly