1927
From Berlin, Germany, Nguyen Ai Quoc (an alias of Ho Chi Minh) sent a letter to the International Farmers' Presidium asking for help in returning to Vietnam.

1945

Chien Thang (Victory) newspaper published "President's advice to soldiers", in which the President pointed out soldiers' negative behaviors: 1. Running after formalism and neglecting practical issues… 2. Failing to keep military secrets… 3. Being careless… 4. Treating the public badly; with many officers behaving like mandarins when dealing with the public. 5. Failing to understand what "freedom" really is and thus, not abiding by military discipline. 6. Carrying out assignments unsystematically …"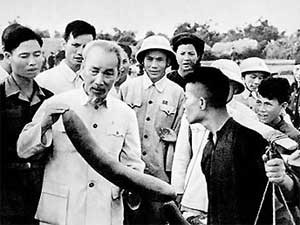 President Ho Chi Minh meets with farmers in Ai Quoc commune, Hai Hung Province in 1958 (File photo)
To correct these wrongdoings, the President advised them to respect military discipline, carry out their tasks rapidly and decisively, improve their military skills, be diligent, and take part in production activities.

1949

Speaking at a Government Council meeting, the President said: "in the coming new year, all people, industries, and agencies must try their best to make preparations for a general counter-attack to defeat French colonialists and achieve total victory in the war."

1954

In a letter to soldiers recruited from South Vietnam, the President sent them kind regards and advised them to strengthen solidarity between each other, between soldiers and officers, and between soldiers and the people.

The letter read: "Solidarity is our undefeatable strength, which helps us to overcome all hardships and achieve victories. You should follow the nation's brave tradition, behave yourselves well, endure hardship, and be determined to fulfill your duties. In brief, you should maintain and develop revolutionary virtues of the Vietnam People's Army."

1961

Speaking with people and soldiers in Thanh Hoa Province, the President said: "Socialism means bringing a well-off and happy life to the people. One proverb says: 'When taking fruits, you should think of the grower.' To have good fruits, we must look after trees. To build socialism successfully, our people should have a sense that they themselves are masters of their future, and should practice thrift and contribute to the country's development and the building of socialism …"

1965

Attending a Politburo meeting held to discuss the US's announcement that it would stop bombing North Vietnam, the President said: "We should issue a statement to the US, in which we reiterate the Vietnamese people's desire for peace and point out that the war would harm both sides.

"We should emphasize that 'only when the US Government unconditionally stops bombing North Vietnam and recognizes the four-point policy of the Government of the Democratic Republic of Vietnam, can a political solution to Vietnamese issues be considered.'"

1968

The President attended the memorial service held in Ba Dinh Hall for Health Minister Pham Ngoc Thach, who was killed during a mission in the South.
By Duong Trung Quoc* and his assistants
*The author is a historian and member of the National Assembly