1919
According to a French Intelligence report, Nguyen Ai Quoc (an alias of Ho Chi Minh), went to the Sainte Genevière Library in Paris, France, and then to the office of the French lower house of parliament to meet Marcel Cachin. He also visited political newspapers L'Humanité and Le Populaire.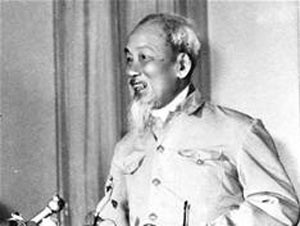 File photo of President Ho Chi Minh
1921
Nguyen Ai Quoc attended a meeting of the Socialist Party of France's Cell 17 in Paris, where he analyzed the causes of wars and accused French Prime Minister Raymond Poincaré of not taking measures against Germany's military actions.
1931
While jailed in Hong Kong, Tong Van So, as Nguyen Ai Quoc called himself, received a letter from Prince Cuong De.
The letter read: "To comrade Nguyen Ai Quoc. I am very worried to hear that you have been seriously ill in Hong Kong. I send together with this letter 300 yen for you to buy medicine. I hope you to try to get treatment. Your health is very essential for your national missions. I wish you a quick recovery."    
The letter demonstrated a close relationship between the two prominent figures, which made French colonialists extremely worried.
1945
President Ho Chi Minh attended a Government Council meeting, where he analyzed the Vietnam Nationalist Party's claims related to the planned general election. After discussion, the council decided to put off the general election until January 6, 1946.
1949
Speaking at a Government Council meeting, the President advised: "1. Meetings must be held in a proper manner; 2. It is necessary to build a close relationship between the Government and the people to make them better understand the Government's policies; 3. Ministries' activities must agree with each other; 4. A patriotic movement should be launched among ministries."
The same day the President signed a decree to set up the Government Inspectorate with Ho Tung Mau appointed as Chief Inspector and Tran Dang Ninh as his deputy.
1951
In "As you brew, so you must drink" in Cuu Quoc (National Salvation) magazine, the President commented on the US's war policy and concluded: "If the US sows seeds of war, they will suffer from the impacts of war." 
  
1960
In "International communists and workers' movement for solidarity, struggle, and victory" in Nhan Dan (The People) newspaper, the President introduced the joint communiqué of 81 communist parties that had met in Moscow.
The article read: "Communists' duties are not only to eliminate exploitation and poverty but also to prevent wars from occurring … To achieve victories, colonial people must join together in a united front against imperialism. That front should be based on the strength of workers and peasants but it needs to seek support from patriotic capitalists …
"The world situation has now changed, creating some advantages for us … We will surely be successful in our struggle for world peace, national independence, and socialism."
By Duong Trung Quoc* and his assistants
*The author is a historian and member of the National Assembly