1922
In "Kind-hearted Colonial Judge," Nguyen Ai Quoc (an alias of Ho Chi Minh) wrote satirically in French newspaper L'Humanité about the French Government appointing officials, whom he considered undesirable, as judges in colonial courts.
The article read: "Thus, the fate of the French civilization, as well as the fate of the colonial people has been put in the hands of the 'reliable' judges."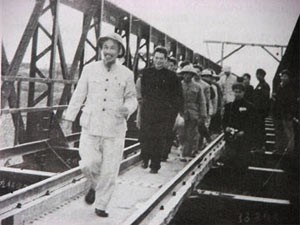 President Ho Chi Minh in his visit to the northern province of Bac Giang in 1955 (File photo)
1923
In "The Plight of the Annamite People" in Le Paria, Nguyen Ai Quoc said that in general, the Annamite people, especially farmers, were forced to bear what the French called "protection" for Vietnam.
He said that in fact, the French were suppressing the Annamite people. Vietnamese farmers suffered from deprivation and even bankruptcy, he added.
"We find that under the mask of democracy, the French imperialists are imposing damning medieval rule on the Annamite people," he said.
1945
In a letter to residents and soldiers in Southern and South Central Vietnam, he said that the resistance war would be a success despite all challenges.
The same day he attended a Government Council meeting to discuss inviting scholars to run for the National Assembly election, and establishing a Press Committee and temporary press censorship.

Giving subsidies to the wives of former Kings Thanh Thai and Duy Tan was also discussed.
December 1948
The president sent a letter of thanks to Song Soi Farm in the Inter-Region I that had presented him with some oranges.
He wrote: "I thank you for your oranges. I hope all of you will help pioneer the patriotic movement, reclaim more farming land, work to help the Government in economic development, and set good examples for the people to follow."
1959
In "Anti-drought Measures Must be Stepped Up," he wrote under the pseudonym Tran Luc in Nhan Dan (The People). In the article, the President praised farmers for their efforts in coping with the drought and achieving a good harvest.
He called on them to continue their efforts to gain the same achievements in the next crop.

The article concluded with the following verses:
Despite the raging drought everywhere
Human determination has overcome disaster
Without rain, farmers still made a good crop
1962
In "Assisting Cuba in Fighting American Imperialists" in Nhan Dan, the President said: "In facing any cruel enemy, if a small nation is determined to fight them in a spirit of solidarity and high vigilance, that nation will surely win the fight."
By Duong Trung Quoc* and his assistants
*The author is a historian and member of the National Assembly