1940*

Mr. Tran (one of Ho Chi Minh's aliases) met Vu Anh in Kunming (China ) to find a way to return motherland.

1941*

He closely followed the revolutionary movement in the country after establishing his headquarters in Pac Po cave in the northern mountain province of Cao Bang.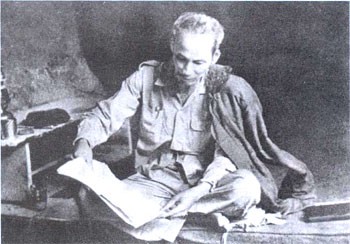 Uncle Ho in Pac Po cave in the northern mountain province of Cao Bang which he made his base in 1941 when he returned motherland after spending over 30 years abroad
1943*

Ho Chi Minh was jailed by militaristic forces of the Chinese Nationalist Party.
1944*
Ho Chi Minh was released and he participated in an important event, the Preparatory Conference for the National Delegate Congress of the Viet Nam Revolutionary League.
With his astuteness, Uncle Ho was successful in convincing delegates to allow the Viet Minh (League for the Independence of Viet Nam) to attend the congress and rename the meeting the Delegate Congress of Viet Nam's Overseas Revolutionary Organizations.
His suggestion was accepted by General Truong Phat Khue and he was made the convener of the congress.
He managed to use the congress held in March to Viet Nam's advantage, pre-empting Jiang Jie Shi's plot to invade the country.
1946
Uncle Ho participated in a Government Council meeting. On the same day he reached an agreement with French Commissionaire J. Sainteny that the two sides need to achieve a détente to make future negotiations easier and defined his standpoint of "Independence and cooperation" in relations with France.
1952
After the Hoa Binh victory, he wrote to the Front Committee and soldiers: "I'd like to counsel soldiers and people not to become arrogant and discount the enemy because we won. This victory marks new progress for our soldiers and thwarted the enemy who was preparing to attack."
1961

On the closing day of the Politburo meeting, he said: "Our army is the People's Army. Our war is the people's war. The army has to bond with the people. In the army, the manner of sharing misery with people is very important. The method has to be state-of-the-art, and soldiers have to lead lives appropriate to the people's."
1965
President Ho Chi Minh sent a letter greeting the Indochinese People's Conference held in Phnom Penh from March 1 to 9.
In it he pointed out that the US had broken the 1954 Geneva Accord on Indochina and 1962 agreement on Laos, and had violated the sovereignty of three Indochinese countries.
"People in the three fraternal countries -- Viet Nam, Cambodia, and Laos -- have to stand together to fight their common enemies, colonialism and imperialism. With the risk of the US widening the war, we will surely win when the peoples of the three nations unite to fight the US."
* Happened at the end of February but the exact dates are not known
By Duong Trung Quoc and co-writers
The author is a historian and member of the National Assembly