1930
 
Nguyen Ai Quoc, an alias of Ho Chi Minh, wrote to a branch of the British Communist Party to ask it to send him copies of leftwing newspapers together with some rightwing and bourgeois newspapers to fool police if he was caught receiving revolutionary newspapers that plotted the overthrow of the government.
 
On the same day, in a letter sent to Soviet comrades, he said he would write a book in Vietnamese about memories of his travels to the Soviet Union. This was an idea for his work 'Nhat ky chim tau'' (Diary of the ship sinking) published at the end of 1930 to show changes in Lenin's country.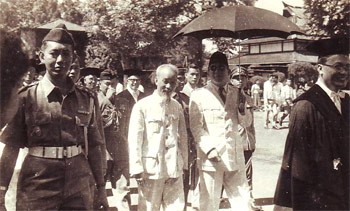 President Ho Chi Minh during his visit to Indonesia in 1959
1946

President Ho Chi Minh presided over a Government Council meeting to discuss the urgent task of establishing a new society.  
In the afternoon, he participated in a joint session of parties to discuss a program introducing the coalition government at the National Assembly. 
1949
In reply to a France Soir article about Emperor Bao Dai signing the Ha Long Agreement with France to establish a puppet government, he said, "Only real independence and real unification can satisfy Vietnam's aspirations." 
He also rejected an agreement with Bao Dai, saying that "There is no way for an agreement to be had between an individual with a government, which is appointed by the people." 
1959
Speaking at the Indonesian National Assembly, he said, "Histories of the two countries have proved that uniting the people is a decisive factor for our victory. The Asian-African solidarity is also an important factor to defeat colonialism." 
He repeated the Indonesian President Sukarno's speech delivered during his visit to Vietnam that "The friendship between the peoples of Indonesia and Vietnam will be eternal thanks to a common purpose, which is protecting the world's peace and the nation's sovereign." 
1962
In a letter sent to the 8th World Youth Congress held in Helsinki, Finland, he said, "The Congress creates opportunities for thousands of young people from various countries to contact, understand and love each other more […]" 
"The congress helps to unite young people to fight against and annihilate colonialism for independence, friendship, cooperation and world peace. Your purpose is noble. Your forces are great. Your future is bright." 
1969
Receiving the delegation from the National Liberation Front, led by doctor Phung Van Cung, he said, "Saying tens of thousands of sentences can't express all of my praise for the Southern delegation. Therefore, I'd like to just say that though the North and the South are very far away, they are in the same country. And we will be very happy when the North and the South get together." 
                                                                                     By Duong Trung Quoc and co-writers 
                                                    The author is a historian and member of the National Assembly