1926
 
Nguyen Ai Quoc (an alias of Ho Chi Minh) wrote from Guangzhou to the Presidium of Communist International saying he has sent it some copies of the Chinese Peasant newspaper and related documents and calling its attention to the peasant movement in that country which was being affected by political happenings.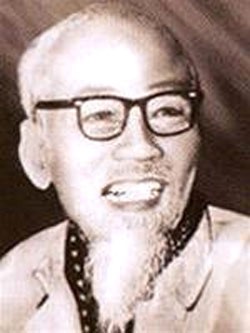 Uncle Ho in 1969
1928
He wrote from Berlin to the leader of the Peasant International in Moscow saying he was writing a book on Chinese farmers, especially the movement in Lu Haifeng. 
1930
Nguyen Ai Quoc presided over a conference held in Hong Kong from February 3 to 7 to unify communist organizations in the country. 
Participants agreed to unify their organizations, named it "Communist Party of Vietnam," and adopt Marxism-Leninism in Vietnam.  
This event was a historic turning point for the Vietnamese national liberation movement. 
1945
The Communist Party successfully carried out the August Revolution.  
1950
Uncle Ho left Beijing secretly for Moscow to meet Soviet leaders to seek their support for the Vietnamese people's resistance war. 
1954
February 3 was the lunar New Year's Day and he wrote a poem to wish people a happy new year and encourage them to prepare for a strategic and decisive fight in Dien Bien Phu.  
1964
Nhan Dan newspaper published his article titled "Congratulate our Party for turning 34." 
1969

Nhan Dan published the last ever article by him on the 39th anniversary of the establishment of the Party.  
It said the Party's urgent task at that time was to "Enhance revolutionary morality and eliminate individualism." 
By Duong Trung Quoc* and co-writers
*The author is a historian and member of the National Assembly