1925
Nguyen Ai Quoc (Ho Chi Minh's alias during his revolutionary activities abroad from 1919 to 1941) focused on mobilizing revolutionary forces and drafting the Vietnamese Communist Party's charter with 21 clauses.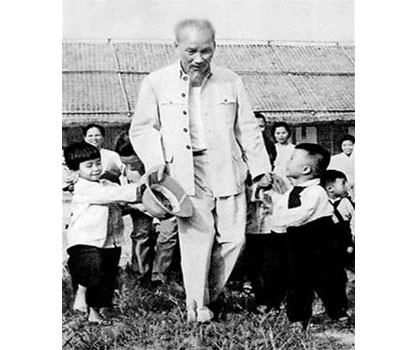 The file photo shows Uncle Ho visiting children at a kindergarten in Ha Noi
Its goals were clear: Activities to raise workers' awareness and fight for people's power and to bring happiness to the proletariat, workers, and peasants.
The draft included organizational regulations and was a basic document for establishing the Union of Revolutionary Young Comrades made up of patriotic Vietnamese. The document was believed to be issued in February 1925.
1947
President Ho Chi Minh sent a letter of thanks to the people during Tet for supporting soldiers who were fighting on the front. It said: "The people's kind hearts showed that relations between them and soldiers were stronger. So, despite difficulties, the resistance will surely achieve victory."
On the same day, asked by British wire service Reuters what the conditions for ending the war are, President Ho Chi minh said: "When Vietnam achieves its targets of unification and independence, it will end the war and implement reconciliation."
1958
President Ho Chi Minh visited the Taj Mahal during his visit to India and wrote: "In olden times, Indians could build majestic and gigantic palaces. Nowadays, they use their talent to build large factories and dams for the country's development and children's future. These show that the Indian people have a glorious past and prosperous future."
1961
Nhan Dan newspaper published an article by President Ho Chi Minh under the pseudonym T.L. praising a Party cell in Kim Anh commune, Ha Dong town, for helping local residents overcome poverty. The article concluded: "A good Party cell is one which carries out the Party's policies, mobilizes people, strengthens and develops agricultural collectives, improves people's living conditions, has exemplary members whom people trust, admire and love…"
1967
This day fell on the first day of the Year of the Goat, and President Ho Chi Minh wrote a New Year greeting to people which ended with a poem:
Xuân về xin có bài ca
I have a song to welcome spring
Gừi chúc đồng bào cả nước ta
As a greeting to people nationwide
Chống Mỹ hai miền đều đánh giỏi
Hoping both regions (the South and the North) will achieve victory over American troops
Tin mừng thắng trận nở như hoa
News of the triumph blooms like flowers
The same day he visited the People's Army Air Force Strike Fighters Regiment, urging the troops to unite, study, fight well, and achieve victory over the enemy.
During a visit to northern province of Ha Bac, the President said: "We must reject an undemocratic working style, bureaucracy, embezzlement, and squander."

By Duong Trung Quoc* and co-writers*
*The author is a historian and member of the National Assembly