May 19, 1890
Nguyen Tat Thanh (the given name of President Ho Chi Minh) was born in Hoang Tru village, Nam Dan District, Nghe An Province. His father Nguyen Sinh Sac and mother Hoang Thi Loan named their third son Nguyen Sinh Cung (or "Coong" in the local accent) in the hope he would rule the roost and be enterprising like the fish he was named after.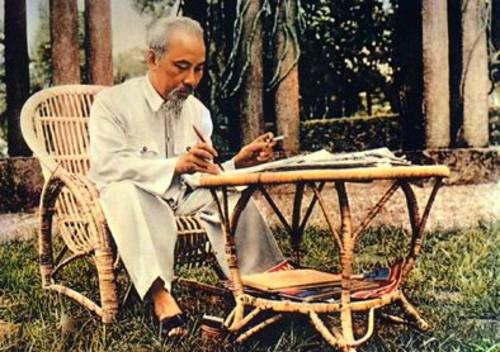 The file photo shows Uncle Ho working in the garden behind the Presidential Palace.
The President's birthday was revealed for the first time in 1946 and was first celebrated that year. The celebration was aimed at showing solidarity with the leader of a young, independent country that was facing serious challenges rather than showing adoration for a leader.
In his memoirs, General Vo Nguyen Giap wrote that children from Hanoi's suburbs, who were newspaper boys or orphanages at a school the President had visited, drummed, presented the President banners with calligraphy on them, and sang revolutionary songs.
"Delegations of soldiers from the South and Association of National Salvation Cultural Association also congratulated him," the general wrote further.
The President told the soldiers from the South: "…My birth day was celebrated ostentatiously by newspapers, but there is certainly nothing to mark the age of 56. This age is still young. I feel a sense of shame that the North is serene while the South has not yet got peace."
To soldiers of national salvation cultural Association who came to ask for a slogan for building a new life in the country, he wrote: "Cần (hard work), kiệm (savings), liêm (integrity), chính (straightforwardness), chí công vô tư (put the nation's interests supreme).
1947
While the war against the French conquerors spread nationwide the President's birthday was celebrated secretly at the Son Duong resistance base in Tuyen Quang Province with a bunch of wild flowers given by his bodyguards. He used the flowers to pay tribute to his chef who died of malaria.
1948
Replying to birthday greetings, President Ho Chi Minh wrote a letter of thanks to the National Assembly, Government, unions, and people.
In the letter, he wrote: "Fellow citizens, you love me and send birthday greetings to me, I do not know how to reciprocate your feelings. I know only one way to deserve your love -- by being determined to encounter difficulties together with you, shoulder to shoulder with you to fight for the nation's unity and independence, side by side with you to achieve freedom and happiness for our children's generations."
1949
Replying to a suggestion on his birthday celebration, the president composed a poem entitled "No Title":
Vì nước chưa nên nghĩ đến nhà
For the country should not think of oneself
Năm mươi chín tuổi vẫn chưa già
I am not yet old at the age of 59
Chờ cho kháng chiến thành công
Wait until after the resistance achieves success
Bạn sẽ ăn mừng sinh nhật ta
You shall celebrate my birthday
A day after May 19, 1949, President Ho Chi Minh sent a letter to the people, thanking them for their birthday greetings. In the letter he said: "When the nation salute complete victory I will very happy to welcome people and soldiers."
1950
At a meeting of the Party Central Committee's offices in Thac Dang (Tuyen Quang Province), the President wrote a poem talking about his age:
60 tuổi vẫn còn xuân chán
60 years is still young
So với ông Bành vẫn thiếu niên
I am a teenager beside grandfather Banh
Ăn khỏe, ngủ ngon, làm việc khỏe
eat well, sleep well, work hard
Trần mà như thế kém gì tiên
Such a normal life is not different from angels' life
1953
The president wrote a poem in Han which was translated into Vietnamese by Xuan Thuy:
Chưa năm mươi đã kêu già
People often say too old at the age of 50
Sáu ba vẫn nghĩ là đang trai
I think I am still young at the age of 63
Sống quen thanh đạm nhẹ người
I feel light due to simple life
Việc làm tháng rộng ngày dài ung dung
I am feeling comfortable at the time
1954
His birthday celebrations coincided with the Dien Bien Phu Victory and were marked by a meeting between the President and the brave soldiers from the fronts. The President conferred a medal on a young soldier who arrested French General De Castries at the Dien Bien Phu front.
A special guest, Soviet filmmaker Roman Karmen, who was making a documentary on Dien Bien Phu and the Vietnamese people's resistance, attended the meeting.
After achieving peace for the country, the President used to leave home to avoid guests coming to greet him on his birthdays.
He visited Huong Pagoda in 1958 and Tay Phuong Pagoda in 1959
From 1960 to 1967, during that period, the President used to pay diplomatic visits to China to mobilize support for Vietnam's resistance against the US.
1965
Uncle Ho visited Qufu, where the ancient Chinese philosopher Confucius was born, and wrote a poem "Imitating Qufu" which was translated into Vietnamese by Dang Thai Mai:
Mười chín tháng năm thăm Khúc Phụ
Visit to Qufu on May 19.
Miếu xưa vẫn dưới bóng tùng xưa
The old temple is still under the old pine
Uy quyền họ Khổng giờ đâu nhỉ?
Where is Confucius's power now?
Lấp loáng bia xưa chút ánh tà
The old memorial stele reflects the afternoon sunlight
On his last two birthdays (in 1968 and 1969), the President reread and amended his will.
In 1968, after working on the will, he received Nguyen Thi Quyen, wife of hero Nguyen Van Troi who was killed by the Sai Gon Regime for attempting to murder then US Defense Secretary McNamara.

In 1969 the President welcomed Nguyen Thi Chau, a volunteer in the Sai Gon Gia Dinh liberation movement for youth and students.
It seemed that during the war the President offered his most profound feelings to people in the south.

By Duong Trung Quoc* and co-writers
*The author is a historian and member of the National Assembly