1946:
The Cuu Quoc (National Liberation) newspaper, an organ of the Viet Minh national liberation movement, published a letter President Ho Chi Minh wrote to associations formed by mandarins who served the country's last feudal dynasty, the Nguyens, calling them to support the Revolution.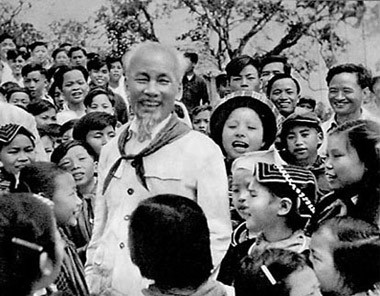 Uncle Ho and Young Pioneers in Viet Bac in 1960
He wrote: "I express my gratitude to your associations for funding housing and the Foundations of Help, Fighting, and Independence. Some critics say I have nothing else to do but say thanks. Yes, I am pleased to hear that.
Furthermore, I hope I can write many letters of thanks since the letters prove that our people are eager to help the revolution by following the saying: "People who have money contribute money, people who have strength contribute strength". Our people have united and as a result our fight for freedom shall be victorious and the rebuilding of the nation, successful."
Ending the letter, the leader wrote: I regret because I can not express my gratitude to all people because I am very busy. So I am sorry".
He wrote this simple but evocative letter at a time when the country had just overthrown feudalism and the French colonizers.
1947:
On the occasion of a visit to Indochina by French Overseas Minister Marius Moutet who signed the September 14 Provisional Agreement (?), President Ho Chi Minh sent a message through the media.
In an interview he said: "Vietnam does not want to fight France and its people because we desire the two nations to develop cooperation. But freedom and independence are rights that God grants every people… When people rise up to fight for their motherland, no one or no force can defeat them. The Vietnamese people desire peace but they will fight to the end for their motherland."
A day earlier, the President had sent a letter to the French Government and people saying, "I call on the French people to end the fight and bring about peace and friendship between the two countries."
1950:
The French colonizers were continuing their war with Vietnam. Ho Chi Minh left the revolutionary base of Tan Trao to visit China and the USSR looking for international support.
The Cuban revolution achieved success on January 1, 1959, and Vietnam established ties with Cuba in 1960. From that year onward, the President visited the Cuban embassy in Hanoi every year to express Vietnam's solidarity with the Latin American island nation.
By Duong Trung Quoc* and co-writers
*The author is a historian and a member of the Vietnamese National Assembly.