1927
L'Annam newspaper ran the last of a series of six articles titled "Incidents in China" by Nguyen Ai Quoc, an alias of Ho Chi Minh. It was the time when China was seeing big changes coming from revolutionary leadership of China's Sun Zhongshan. These changes would affect Indochina strongly.
1934
As "the Hong Kong case" finished, Governor William Pin sent to the UK government reports on all measures the Hong Kong administration had to take to "bring Nguyen Ai Quoc back to Russia" after the Royal Court ruling of releasing a man wanted by French agents.
1946
President Ho Chi Minh chaired a meeting of the Government Council to deal with pressure from the Vietnam National Party (Việt Nam Quốc Dân Đảng) who wanted to immediately establish an official government to replace the caretaker government under an agreement signed with the Viet Minh force late in the previous year. The persistent point of view of Ho Chi Minh, the President of the caretaker government, was an official government could only be elected after the National Assembly held its congress.
1964
During a meeting of the Politburo, Uncle Ho criticized those officials who did not work wholeheartedly, and suggested the publication of booklets to promote a social campaign against wrongdoings.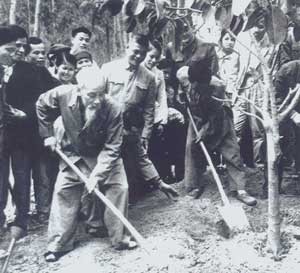 Uncle Ho grows a tree during a Lunar New Year festival (filed photo)
1965
As usual, Uncle Ho joined a tree growing festival during Tet (the Lunar New Year). He grew trees in Dong Anh and Tu Liem in Ha Noi and visited inhabitants.
By Duong Trung Quoc* and co-writers
*The author is a historian and member of the National Assembly