1922
Le Paria newspaper published two articles titled "Exploiters" and "Racism" written by Nguyen Ai Quoc. They condemned the barbarous acts of the French in colonies from Africa to Indochina.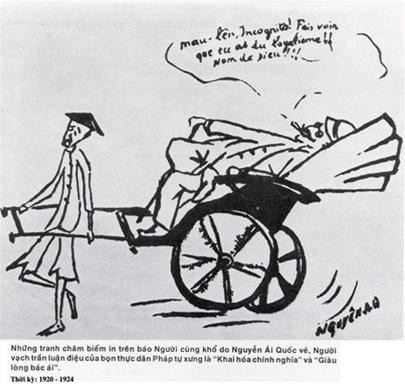 A caricature by Nguyen Ai Quoc was published on an issue of Le Paria. (Filed Photo)
1924
Speaking at the Fifth Congress of Communism International, Nguyen Ai Quoc criticized communist parties in colonial countries for failing to adopt positive policies. He concluded: "Because we consider ourselves Lenin's followers, we must mobilize all our energy to apply Lenin's teachings to colonial issues."
1942
Independent Vietnam carried an article by Ho Chi Minh titled "Fox and Bees' Nest." Narrating a fable in which bees unite to fight a fox, the revolutionary leader finished with a poem:

Bây giờ ta thử so bì
Now we try to compare
Ong còn đòn kết huống chi là người
Bees know how to unite, much less human beings
Nhật Tây áp bức giống nòi
Japan and France are oppressing our nation
Ta nên đoàn kết để đòi tự do
We should unite to fight for freedom.
1946
In France, President Ho Chi Minh met overseas Vietnamese, among whom was painter Vu Cao Dam who wanted to create a portrait and statue of the President. On the same day, some progressive French intellectuals and writers like Louis Aragon, Jean Richard Bloch, and Pierre Emmanuel called on him.
1947
President Ho Chi Minh wrote a letter to an intellectual from the Dinh family in the northern province of Hoa Binh, calling on the Muong ethnic people to take part in the fight against the French colonialists.
The same day, he wrote a letter of encouragement to poet Huyen Kieu who wrote an epic in praise of the President entitled "Ho Chi Minh-nation's quintessence." In the letter, the President said: "I hope you and other writers and artists will associate yourselves more closely with the great national fight and create works that serve the arduous but determined resistance."

1954
Writing in Nhan Dan newspaper, the President commented on some articles published by the French media about the French expeditionary forces' crimes. He said the war (French colonialists brought to Vietnam) is meaningless… It has brought French colonialists to Dien Bien Phu and would take them to other such places.
1958
Nhan Dan published an article by the President titled "Experience of China," in which the president said: "We must draw valuable lessons from brother countries. Of course, we must use it creatively and appropriate to our country's status, and not mechanically."
1960
Delivering a speech at a congress of the units of Party central offices, the President said: "Though the fight against foreign invaders has temporarily ended, we must continue the fight against poverty and backwardness … So party members must be volunteers in the fight".
By Duong Trung Quoc* and co-writers
*The author is a historian and member of the National Assembly