1925
As a member of the Association of Oppressed Nations, Nguyen Ai Quoc, who called himself Ly Thuy, was selected by the Association's Committee for Industrial Action to be a speaker at a forum on "relations between Chinese workers and suppressed nations and the need to unite to defeat imperialism."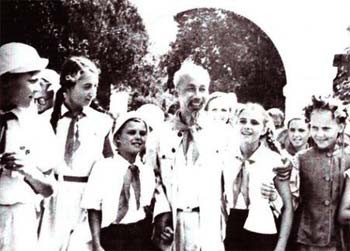 President Ho Chi Minh with Russian children on his visit to the Soviet Union in July 1955
1946
During his stay in France, President Ho Chi Minh met a number of Vietnamese and some French politicians like Admiral Pierre Barjot and former Defense Minister Edmond Michelet and a French reporter to whom he spoke about the role of women in Vietnam's history as well as in the National Assembly.
1953
In "Features of the Labor Party of Vietnam," an article President Ho Chi Minh wrote in Cuu Quoc (National Salvation) newspaper under the pseudonym D.K., he said: "The Labor Party of Vietnam is the highest political organization of the working class and is the representative of the nation's interests.
"The Party adopts strict discipline and so has no room for opportunists and backward elements."
1955
During his visit to the Soviet Union, President Ho Chi Minh led a Vietnamese Government delegation to the Lenin mausoleum in Moscow, where he wrote in the visitors' book: "Lenin, the great teacher of proletarian revolution. He was also a man of great virtue who taught us to be diligent, thrifty, honest, and righteous. The spirit of Lenin is everlasting."
1956
In an interview to AP, President Ho Chi Minh said: "All of the Vietnamese people will struggle more vigorously for a free general election to be held in the country. That is the nation's profound aspiration as recognized in the 1954 Geneva Treaty. The country of Vietnam from North to South is an integral block that needs to be unified. It is impossible to divide Vietnam into two separate parts just as it is the case for the US."
1957
During his visit to the Soviet Union, President Ho Chi Minh told journalists about his approach to learning Lenin's doctrine.
He said: "When the Russia's October Revolution broke out in Russia in 1917, I was in France. At that time, I was a patriot with a revolutionary spirit and I am also an anti-colonialist.  French proletarians have helped me better understand the great historical events in Russia.
"At the 18th National Congress of the Socialist Party of France in the city of Tours, I showed my stance when I voted for the Third International, not for the others. Why? That is because it struggled to liberate suppressed nations, while the Second International members tried to neglect colonial issues. Therefore, I selected the Third International as my favorite organization."
1966
Visiting a number of units belonging to the air defense force, President Ho Chi Minh advised: "Liaison and communications is a very important task. It is like the nervous or circulatory system for a human being." 
1968
In a letter to Nguyen Huu Tho, chairman of the National Liberation Front of South Vietnam, President Ho Chi Minh praised soldiers and people living in the Quang Tri -Thua Thien area for dislodging tens of thousands of American troops from Khe Sanh.
He concluded the letter with two verses:
South, North fight with the same heart
Final victory will be ours
By Duong Trung Quoc* and co-writers
*The author is a historian and member of the National Assembly