1920
The Preliminary Thesis on National and Colonial Questions by V.I. Lenin was published on French newspaper L'Humanité. It was the thesis that persuaded President Ho Chi Minh to follow the Lenin-led Third International and thereafter contributed to the founding of the Communist Party of France.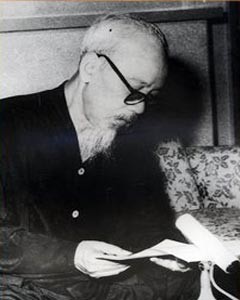 President Ho Chi Minh reads his appeal to the people on July 17, 1966, confirming the Government's determination to fight American invaders until it achieves a final victory

1945
With President Ho Chi Minh's approval, an armed force from the US's Office of Strategic Services nicknamed "Deer Team" and led by Major Allison Thomas parachuted into Tan Trao commune, Don Duong District, Tuyen Quang Province, and was welcomed by Viet Minh (the League for the Independence of Vietnam).
The unit was to join Viet Minh soldiers to form a "US-Vietnamese company" to fight the Japanese.
1947
In a letter to the Day of National Wounded Soldiers (July 27) anniversary organizing committee, President Ho Chi Minh wrote: "While our fatherland is in danger, our pagodas, churches, and ancestors' graves are occupied; our parents, siblings and other relatives are threatened; and our villages, fields and gardens, houses, and assets are devastated; who will be the first volunteers to fight the enemy? They were combatants, many of whom later became wounded soldiers.
"Wounded soldiers are those who have sacrificed part of their body for the fatherland. Therefore, everybody must show their gratitude to them and support them.
"July 27 is an occasion to express our love for wounded soldiers. I volunteer to donate them an undershirt and one meal and one month's salary of mine. My money plus contributions by my office staff totals 1,127 dong."
1962
In a congratulatory message to the World Conference on Disarmament and Peace, President Ho Chi Minh wrote: "Only with strong unity among peaceful forces in the world and a decisive demand for disarmament can we crush the inhumane schemes of the warmongers.
1966
The Radio Voice of Vietnam broadcast President Ho Chi Minh's appeal to the people, confirming the Government's determination to fight American invaders until it achieves a final victory, despite their escalation of the war and tricks at the peace negotiations.
The appeal read: "They can use 500,000 or 1 million soldiers for more; they can use thousands of aircraft to bomb the North; but they cannot shake the Vietnamese people's iron will and determination to fight off invaders to save their fatherland.
"The war can last five years, 10 years, or 20 years or longer; Hanoi, Hai Phong, and some other cities and enterprises may be destroyed, but the Vietnamese people will remain resolutely unyielding to the enemy. Nothing is more valuable than independence and freedom. When we win the war, we will rebuild our country more beautifully."

By Duong Trung Quoc* and co-writers
*The author is a historian and member of the National Assembly