1941
To mobilize people to take part in the revolution, Nguyen Ai Quoc, Nguyen the Patriot – an early alias of Ho Chi Minh, wrote a poem, "Encourage the youth to take part in military training courses."
1946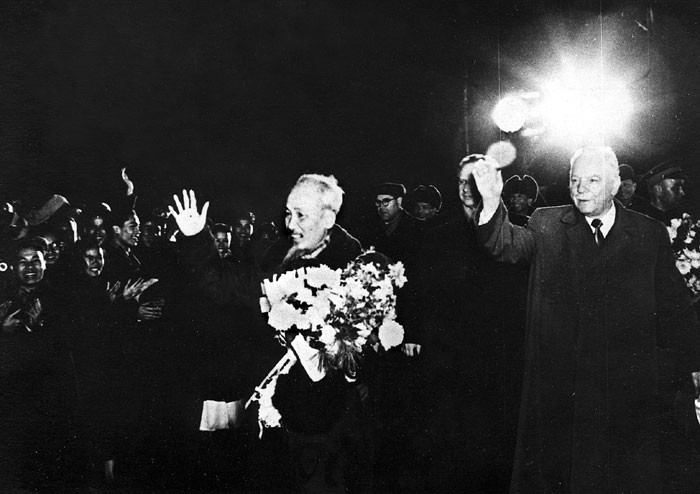 The file photo shows President Ho Chi Minh visiting the USSR in 1957.
During his visit to France, President Ho Chi Minh received French working class people learning about how they overcame the destruction brought about by World War II.
On the same day, the President talked with French Communist Party chief Maurice Thorez.
1948
In a talk with Vo Liem Son, a patriotic poet, the President wrote a poem in Chinese. The poem, "The gift to Vo Cong," was translated into Vietnamese:
Nghìn dặm cụ tìm đến
You pay me a visit over a thousand miles
Một lời trăm cảm thông
One word expresses so much enthusiasm
Thờ dân trọn đạo hiếu
Carrying on devotion to the people
Thờ nước vẹn lòng trung
Serving the nation with faithfulness
Cụ đến tôi mừng rỡ
Your visit makes me glad
Cụ đi tôi nhớ nhung
Your leave makes me sad
Một câu xin tặng cụ
I would like to present you a sentence
Kháng chiến ắt thành công
The resistance is sure to be successful
1949
The President sent a letter to a course on journalism named after Huynh Thuc Khang.
Being a talented journalist, the President said: "Just imagine that the three month course you are attending is a class on multiplication tables. If you want be good in operations, you must study more and forever.
"From what do you study? From society, working places and the people.
"If people understand your articles, want to read them and appreciate them, you are progressing. If not, you are not successful.
"You must contribute comments to trainers, aiming to help later courses be improved."
1949
The President wrote a letter to Quan Du Kich (Guerillas) newspaper. The letter said: "Making every citizen be a soldier, every village be a fortress, making enemy forces be sabotaged and lost whenever they come, our soldiers being looked after physically and spiritually whenever they arrive are the duties of Guerillas Newspaper.
1955
President Ho Chi Minh concluded a friendly visit to the USSR.
Before leaving for home, at the airport, the President expressed his gratitude to the Soviet people for their help to the Vietnamese people's resistance against French colonialists and diplomatic struggle at the Paris Conference.
"Fair-minded help from the Soviet people strengthens the Vietnamese people's confidence and energy, and makes us recognize our responsibility in quickly recovering the economy, improve people's living conditions and training people's forces."