1931

The British Governor in Hong Kong signed a third arrest warrant for Nguyen Ai Quoc to prolong his detention there while waiting for the outcome of negotiations with the French.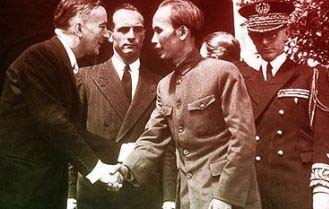 President Ho Chi Minh (R, second) meets French Prime Minister Georges Bidault (L, first) in France on July 1, 1946
1933
During his stay in China, Nguyen Ai Quoc moved from Shanghai to Xiamen, looking for a way to return to Russia to resume his revolutionary activities.
1946
The French Government officially received President Ho Chi Minh, the head of the Democratic Republic of Vietnam. French Prime Minister Georges Bidault held talks with him.
Speaking at a banquet in honor of the visitor, Mr.Bidault said: "Your arrival in France is of great significance. It will help foster friendship between our two countries."
In reply, President Ho Chi Minh said: "I believe Vietnam will play a significant role in the Pacific soon, becoming an independent sate that helps promote the image of France. We share a concept favored by both Confucian and Western philosophies: "Never impose upon others what you dislike yourself.
"In that spirit, I believe that the Fontainebleau conference is likely to become a success. Honest and sincere cooperation between our two countries will prove to the world a reality that with mutual trust, free and independent nations can resolve all problems between themselves, no matter how complicated they are."
The same day, he sent a message to the Vietnamese community in France, informing them of a repatriation agreement between Vietnam and France for Vietnamese soldiers in France. He also expressed the hope that after returning home, the soldiers would deserve to be citizens of the Democratic Republic of Vietnam.
1952
Attending a meeting on military financial management and corruption and squander by a number of cadres, President Ho Chi Minh said that honest, thrifty, and diligent cadres should be commended and that more attention should be paid to imparting moral education to cadres.
1954
In "I do not know!" published on Cuu Quoc (National Salvation) magazine, President Ho Chi Minh praised the bravery of some heroic elderly people in Ha Nam Province, who were arrested in a raid by the French and tortured to death after they refused to provide any information to the enemy.
In the article, he said the Government decided to posthumously confer on them the title "Martyr".
1961
Speaking at a class on cookery, the first of its kind in the North, President Ho Chi Minh was critical of the underestimation of cooking, saying it was an important job in society. He expressed the hope that the class would help cooks improve.

By Duong Trung Quoc* and co-writers
*The author is a historian and member of the National Assembly