1921
Nguyen Ai Quoc received an invitation to a meeting on passing the Charter of the Colonial Union.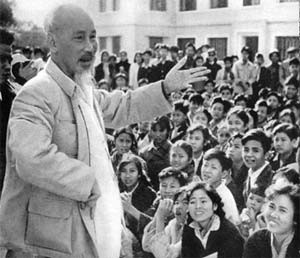 President Ho Chi Minh talking with children in Ha Tinh Province (File photo)
1922
French newspaper L'Humanité published a story "Human beings taste fumigation" written in French by Ho Chi Minh.
In this story, a veteran revolutionary in Africa recalls the bitter past of the colonial regime and realizes that communism and friendship have helped change the fate of many nations.
1931
Nguyen Ai Quoc, under the name Tong Van So, underwent a third round of interrogation in the case in Hong Kong. 
1946
President Ho Chi Minh continued his contacts with French politicians and intellectuals. After visiting scientist Joliot Curie and his wife, the President said: "The couple are in favor of Vietnam's struggle for independence. During our talks, Mr.Curie said French scientists are willing to help develop Vietnamese science.
1953
In an article "The Labor Party of Vietnam leads the resistance war and national construction" he wrote under the pseudonym D. X, President Ho Chi Minh analyzed the role of the Party and concluded that "Party members and cadres must gain the people's trust, respect and love."
1954
The Geneva Treaty on armistice in Indochina was signed but it was later sabotaged by the US and its camp followers. Since then July 20 was known as "the day of struggle for the North and South to be unified" and President Ho Chi Minh would deliver an appeal to the people on that day.
1956
Meeting with people in Phu Tho Province, President Ho Chi Minh urged them and local officials to try to make the crop a success.
He said: "In the resistance war, the Phu Tho people and cadres' glorious achievements have contributed to the liberation of the North. Today, in building the country, you should continue with your traditional dynamism, creating a successful crop and contributing to the State's plans."
Visiting the Phu Tho Tea Plant that was built with the help of the Soviet Union, the President said the plant must produce international standard products for export.
1965
In an appeal to the people on the 11th anniversary of the Geneva Treaty, the President said: "However long the resistance war lasts -- five years, 10, 20, or longer -- we are determined to fight until we achieve final victory."
1968
The President said in his appeal that "our people love peace, but only when we gain true independence and freedom will there be true peace. The only way to restore peace is for American troops to withdraw from Vietnam. The country of Vietnam must be the country of Vietnamese people."
1969
When American President L. B. Johnson issued a "letter calling for peace," President Ho Chi Minh laid bare the US's scheme of "Vietnamization of the war" and called on the people to promote revolutionary heroism, uniting millions of people into one to continue fighting until American troops completely leave Vietnam.

By Duong Trung Quoc* and co-writers
*The author is a historian and member of the National Assembly