1939
During his stay in China, Nguyen Ai Quoc, under the pseudonym P.C. Lin, sent a report to the Communist International Executive Committee on the Indochina situation in 1936-1939, when the Democratic Movement took place after the Popular Front came to power in France.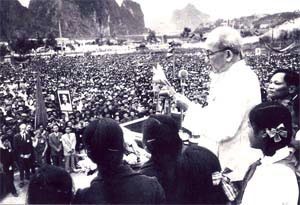 President Ho Chi Minh speaks at a rally (File photo)

He wrote: "I left the Soviet Union nine months ago and have stayed in China for seven months, but I regret to report I have yet to fulfill my task. It appears I have fallen into a cyclone that is changing the fate of hundreds of millions of people in the world. It has changed all of my plans, too.
1946
President Ho Chi Minh, during his stay in Paris, France, contacted a number of French journalists and politicians. He visited the Museum of Wax Statues which housed statutes of world celebrities.
1956
Speaking at the political training course at the Ha Noi People's University, he said: "Besides workers and peasants, our revolution needs the cooperation of intellectuals. Brain workers play a glorious, important role in our revolution and our building of socialism."
 
Placing emphasis on the significance of consistency, he said: "We have to undergo a struggle between obsolete and new in ourselves, which is a prolonged, complicated, and hard struggle. But with our strong determination, new progressive ideas are certain to defeat old backward thinking."
Regarding freedom of thinking, he said: "Our regime is a democratic one. What is freedom? It means everyone has the right to freely voice their opinions to find the truth. It is a duty and obligation of everyone. Once the truth is found, the freedom of thinking will mean the freedom of following the truth. The truth here means things that benefit our country and people. What is against our fatherland and people's interests is not the truth.
 
"The Party and Government always have a high respect for intellectuals whose activities benefit the people."
1959
While on a visit to the Soviet Union, the President led a Vietnamese Government mission from Everan, the capital of Armenia, to Azerbaijan, where it went on a sightseeing tour of the well-known oil-mining complex north of Baku, the capital of the republic.
1961
At a meeting attended by 250,000 people at Ba Dinh Square in Hanoi to mark the seventh anniversary of the Geneva Treaty on restoring peace in Indochina, he said: "Unity creates strength. With the solidarity between us, people in socialist countries, Asian, African, and Latin American people, and all those who love peace, we are sure to defeat the American invaders and their lackeys."
By Duong Trung Quoc* and co-writers
*The author is a historian and member of the National Assembly