1946
President Ho Chi Minh visited Fontainebleau, France, where the Vietnam – France negotiations were taking place.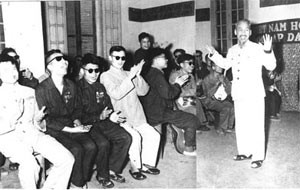 President Ho Chi Minh in a get-together with wounded soldiers on War Invalids and Martyrs Day (July 27) (File photo)
In an interview with French newspaper La Liberté, he expressed his hope that "the relationship between Vietnam and France will be based on sincerity and equality. France needs Vietnam and Vietnam needs France, too.
"The key issue is how the French can win the hearts of 20 million Vietnamese people who love freedom. To this end, they should not plot schemes to cheat us and should not make the situation more complicated."
1947
President Ho Chi Minh chaired a Government meeting, with the participation of some National Assembly deputies, to discuss his proposed governmental reforms.
The reforms must be "expanded and joined by many people so as to avoid a division triggered by the French and to court international support. They should be broadly opened to attract participation of celebrities and intellectuals and show a great unity among the public."
1951
In a letter to the Ministry of Wounded Soldiers and Veterans, he wrote: "Wounded soldiers have sacrificed part of their bodies for the protection of the fatherland and people. They are those who are utterly loyal to the country and people. What can the Government and people do to requite the wounded soldiers' sacrifices?
"Support for them should be carried out with a long-term view, not in a temporary way. It does not mean donating rice to feed wounded soldiers, but means granting them plots of farming land using State-owned land or land that has been offered to the Government by benefactors.
"In that way, we will help wounded soldiers relieve their minds and feel secure about their lives, so that they can continue taking part in activities useful for society."
In an article, "Typical Women," in Nhan Dan (The People) newspaper, the President praised a number of women who had made great contributions to the revolution.
In the article, he highlighted some practical stories that he said were "simple but great."
The article concluded: "Is it true that they have done so for fame, benefit or social position? Not at all. They have done so for their patriotism. Their public-spirited and selfless works are examples for us to follow."
1953
In celebration of Wounded Soldiers Day [now War Invalids and Martyrs Day], President Ho Chi Minh said in his message to the Minister of Wounded Soldiers and Veterans: "On the occasion, I would like to donate my one-month salary and 50 handkerchiefs, which have been offered to me by some Thai women, to wounded soldiers together with my affectionate greetings to them."
1962
Joining people building flood defenses in Hai Duong Province, he advised: "Every citizen – old, young, male and female – should well understand that they are the masters of the country. To get the public impregnated with that spirit is an extreme task that must be well done by every Party member, Party cell and Communist Youth Union member."
1964
In conclusion of a Nhan Dan article, "American imperialists retreat into trench shelters," which reflected military failures of the US in South Vietnam, he wrote: "There is more evidence showing that the more Southern people fight the more they gain great victory."
By Duong Trung Quoc* and his assistants
*The author is a historian and member of the National Assembly