1925
 
The Presidium of the Peasant International assigned Nguyen Ai Quoc to undertake mobilization of farmers in China, Indochina, Burma, Thailand, Taiwan (China), and the Philippines.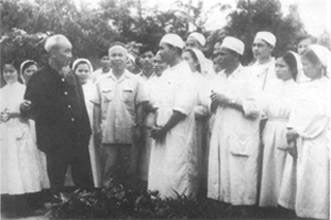 The file photo shows President Ho Chi Minh visiting Viet Duc Hospital.
His duties were to keep an eye on the situation and set up an organization to join the Peasant International.
 
1931
 
The first trial of Tong Van So (an alias of President Ho Chi Minh during his revolutionary activities in Hong Kong) and his comrade Ly Phuong Thuan took place.
The defense counsels for the two Vietnamese revolutionaries were from the Loseby law firm.  
 
They pointed out the errors in the British authorities' procedures in arresting and interrogating the prisoners.
 
They said the absence of the two defendants at the trial was a violation of the British Habeas Corpus Act.
 
The Hong Cong Government was forced to release the Vietnamese revolutionaries.
 
1946
 
During his visit in France, Ho Chi Minh was in contact with Admiral Emile Henry Muselier, famous journalist Andre Viollis, and scientist Paul Langevin, and attended Raymond Aubrac's birthday party.
 
1952
 
Nhan Dan (People) published three of his articles.
 
The first one, titled "A hero who makes mines and hero who attacks with mines," praised Nguyen Van Kim, a political official assigned to set up an arms factory, who invented weapons and innovated effective attack methods.
 
The second, titled "Contradictions between the US and France," analyzed the differences in terms of interests and policies between the two imperialists involved in Vietnam.
 
"The more we win, the bigger our opponents' contradictions are; the further they are divided, the weaker they are and the stronger position we are in; the more they lose, the more we win."
 
"It means using enemies' situation well to benefit our situation."
 
The third one, titled "Fight bureaucracy, embezzlement, squander," said: "Bureaucracy, embezzlement, and squander are crimes. [We] have to eradicate them and practice thrift and integrity, boost production, bring the resistance to victory, build the country successfully, and develop habits and customs among the public and nationwide. It is our important duty."
 
1965
 
At a Politburo meeting to discuss plans to fight the US, he said Vietnam should make the US and the world thoroughly understand that the US has brought 50,000 troops but we are determined to fight even if they bring 500,000.
 
"The US wants to negotiate with us from a position of strength and so has increased the troops, and this is their failure. We have to explain it to the people in the South and North so that they can understand. The US [soldiers] are big and equipped well but [they] are not durable. [We] have to review if we have to change our way of fighting."
 
1967
 
He wrote a letter to praise health officials and staff.
 
The letter said: "[You] have to always remember that a good doctor has to be a good mother and try his best to cure and serve wounded and sick soldiers."

By Duong Trung Quoc* and his assistants
*The author is a historian and member of the National Assembly